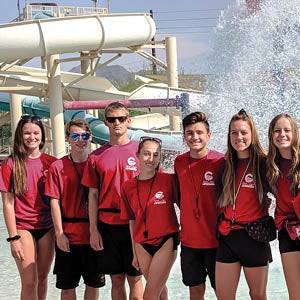 Prepare for an exciting career as a lifeguard or water safety instructor with the City of Chandler. Each season, the City of Chandler seeks reliable, dedicated, hard-working individuals to become part of our aquatics team. We are now recruiting for the 2019 season.
Take the first step and get certified. Once you have successfully obtained the correct certifications, take the dive and apply.
Concerned about passing the prerequisites? Take our Lifeguard Prep Academy.
Not quite old enough to be a lifeguard? 
Join our Junior Lifeguard Program. Youth, 10-15, learn water safety and the duties and responsibilities of a lifeguard. Participants will have an introduction to first aid, and CPR/AED and build a foundation of knowledge, attitudes and skills in preparation for the American Red Cross Lifeguard course. Successful completion requires participation in skills practice. Enrollment is limited to 15 participants.

To participate in Junior Lifeguard Progam, the following skills must be demonstrated:
Swim the front crawl for 25 yards continuously while breathing to the front or side.
Tread water for one minute.
Float on the back for 30 seconds.
Submerge and swim a distance of 10 feet underwater.
The skills evaluation will occur on the first day of the program. Participants should bring a swimsuit and towel for the skills evaluation and for every class. Upon completion of this program, the participant will receive a certificate of completion and t-shirt. Upon turning 15 years of age, they will be prepared to enroll in the American Red Cross Lifeguard course, where the knowledge and skills of a lifeguard will be taught.