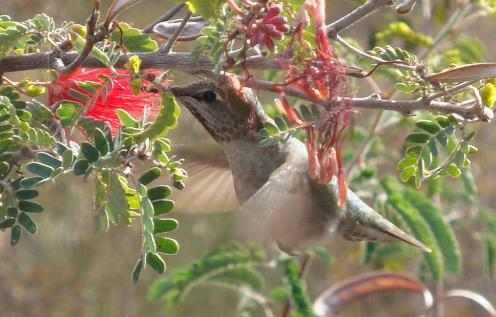 The Hummingbird Habitat at Desert Breeze Park demonstrates the beauty of native and desert-adapted plants in a shady and inviting garden. It is a beautiful space to learn about desert plants and is a point of pride for Chandler residents. It is open to the public every day of the year. By walking the garden paths, you'll see plants at their mature size, find examples of good plant combinations and discover ideas for your landscape.
It was designed by Landscape Architect Dennis Peltz to demonstrate a low-maintenance landscape full of color, fragrance, interesting textures, coveted shade and features over fifty varieties of water-efficient plants that attract hummingbirds, butterflies and other wildlife. When you enter the habitat you are immediately surrounded by the beauty of native and desert-adapted plants in a shady and inviting garden, including the subtle sound of falling water from a hidden water feature.
Established from a water retention area in the back corner of the park, the water feature provides a cooling effect as well as a drinking and bathing source for birds. Near the center of the garden is a large, artificial iron tree with a bench around its base providing a 360-degree opportunity to bird watch in the shade.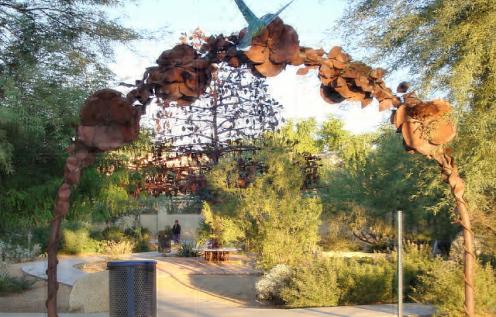 One of the first things you will notice when entering the garden are the two large iron sculptures by artist Joe Tyler. One piece is an archway with a hummingbird collecting nectar from a flower and the other is a large tree that serves as a shade structure to the surrounding seating area. These sculptures were selected by the Chandler Arts Commission. Chandler High School art department students designed and constructed the ceramic tile artwork on the entry signage.
The Hummingbird Habitat is part of Desert Rivers Audubon's Bird Habitat Recognition program and is lovingly maintained by their volunteers. No pesticides are applied in the Hummingbird Habitat as they could impact the health of the birds but even more of a concern, they would eliminate their food sources including insects and seeds.
To create the hummingbird habitat, plant materials were donated by local nurseries and the plants were installed by boy scouts, girl scouts, Intel employees, Chandler Parks Department employees, Chandler residents, and special Olympic volunteers. The Chandler Lions Club provided the walkways and the Soroptimist International of the San Tans funded two benches.
For more information on creating a landscape to attract hummingbirds and butterflies, visit Chandler Water Conservation.