The Chandler Tennis Center at Tumbleweed Park features 15 newly renovated, lighted courts and offers youth, teen and adult group tennis lessons, recreational leagues, tournaments, special workshops, and drop-in play. The 3,000 square-foot facility offers a relaxing lobby area with Wi-Fi, concessions and locker rooms. Service animals welcome. No pets are permitted.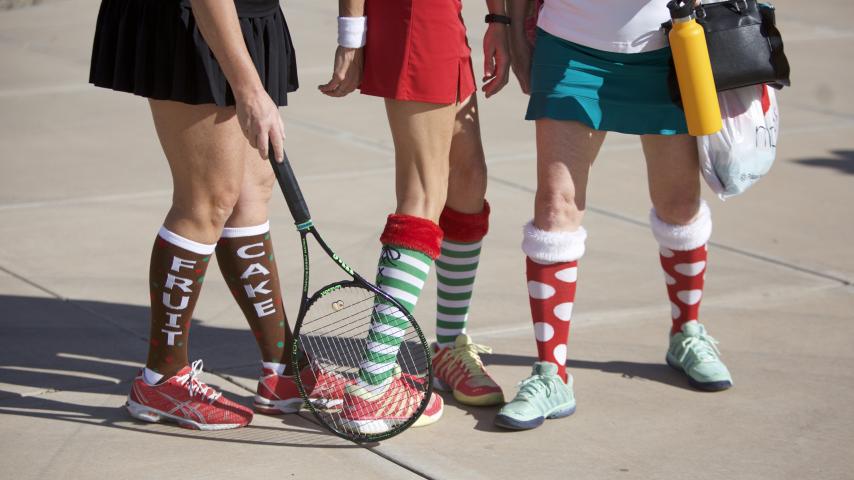 Tennis Social - Ugly Sweater
Saturday, Dec. 12
12 - 3 p.m.
Don your worst apparel and join us at the Tennis Center for an Ugly Sweater Tennis Social! Run, walk or prance your way across the court from noon to 3 p.m. as you enjoy some friendly competition and winter wonderland festivities. This season's social is designed for players rated 3.0 or higher.
Tennis Court Reservation
Reservations for court rentals can be made up to two days in advance by calling 480-782-2650 during regular business hours. Online reservations begin at 8 a.m. each day. A court rental can be made for up to an hour and a half of play. 
Tennis Tips:  Ball Toss
One of the most important parts of your game, your serve, truthfully is the only stroke that you get to completely control as a tennis play. See how to set up a great serve with a great ball toss.
Admission Fees
Visa, MasterCard, and American Express credit cards accepted for all fees at this location.
The cost to play is $2.50 per player before 5 p.m. and $3.50 per player after 5 p.m. for Chandler residents. 
The cost for non-residents is $4 per player before 5 p.m. and $5 per player after 5 p.m.
The Chandler Tennis Center also has a ball machine as well as baskets of tennis balls for rent.
Rental Forms
Group & Team Play
Groups and teams may pre-pay and reserve courts on a monthly or seasonal basis.