Situated in the heart of beautiful Tumbleweed Park, our community health and fitness facility has the amenities, services, and location to make your heartbeat a little faster. We offer fitness and recreation opportunities to people of all ages and abilities to be healthy and active.
Fitness Floor Orientation
Before your first visit to the Fitness Floor we ask all members to complete our Fitness Floor orientation. Guided by knowledgeable and caring fitness staff, you'll learn the ins and outs of the Tumbleweed Recreation Center. Learn how to operate our state-of-the-art Life Fitness cardio, strength, and circuit equipment, as well as the importance of proper core and flexibility training.
Teens ages 13-17 years may use the facility after completing a complimentary orientation to learn safe and proper workout techniques.  
TRC Fitness On-Demand
Move with us, wherever you are. Watch weekly videos for the latest workout routine during this era of social distancing. Your favorite instructors. The classes you know and love. Coming at you on-demand from our studio to your home.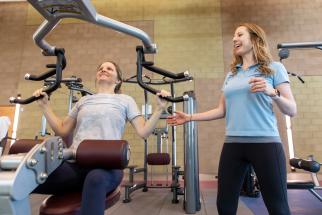 Jump Start Your Fitness Goals
Now is the time to reach your fitness goals with Jump Start 
TRC Personal Training
. Jump Start packages include Fitness Consultation, InBody Assessment, and 
two
 Personal Training Sessions.  Packages start as low as $65 for residents and $87 for non-residents. For more information, contact Vickie Lang at 480-782-2907. 
Track Your Progress
All of our cardio equipment allow you to track your fitness progress, customize your own workouts, and connect with workout buddies.
SilverSneakers
Tumbleweed Recreation Center is a designated SilverSneakers®  facility. SilverSneakers® is the nation's leading exercise program designed exclusively for Medicare-eligible adults and for group retirees offering physical activity, health education, and social events.