A signature gathering space for individuals with disabilities, our Therapeutic Recreation program offers the most innovative play experiences truly inclusive for all.
We're committed to providing life-enhancing recreation opportunities that welcome children and their families of all abilities. Each season we offer a variety of activities and events that encourage participants to engage in activities that promote socialization, skill development, and physical activity. From arts and crafts to cooking to social outings there's always fun for everyone. Find daily inspiration by exploring our Break Time Recreation Guide, Newsletter or Calendar of Events.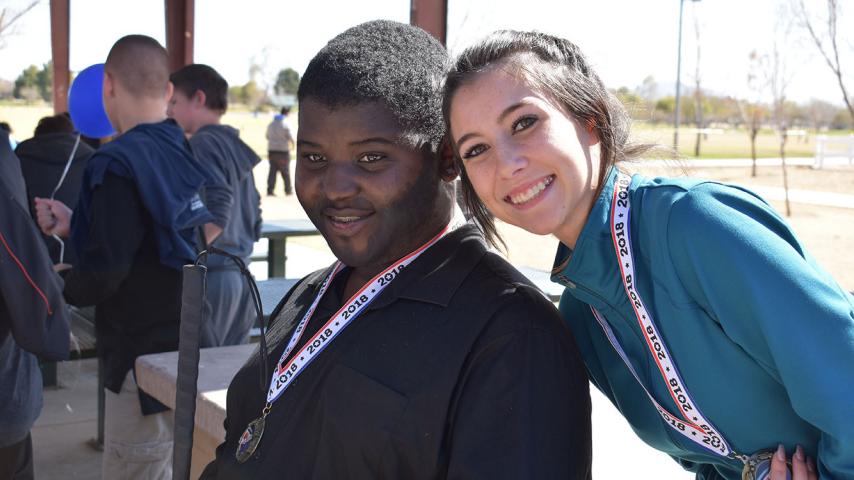 Disability Awareness Awards
Jan. 7 Nominations Open
Feb. 22 Submission Deadline
Nominations are currently being accepted for the 2021 Awards. Recognize a  student, educator, volunteer, employee, and/or employer for their dedication to building awareness about developmental disabilities.
Virtual Adventure Series
Spend the fall with us—from a distance— by joining us for a Virtual Adventure Series, where you'll have the opportunity to enjoy some of your favorite therapeutic recreation classes from the comfort of your home. The same Zoom activities you've come to love over the past few months have been remixed into a new virtual adventure series.
Zoom Activity Schedule
Join Chandler's Therapeutic Recreation community daily for exciting Zoom calls featuring brain games, fitness activities, and fun. 
August 31 - September 28
Monday 11:30 a.m
Cooking
Bon appetit! We're cooking up some fun. Using fresh ingredients each week, chefs learn new recipes and how to make healthy choices in the kitchen when snacking and cooking at home. This hands-on cooking class gives young foodies the confidence to try new dishes. In-person class to be announced.
Wednesday 6 p.m
Zumba
Energize your body and improve your flexibility as you shake, lunge and groove to Latin and international dance rhythms. Combining a dance workout with a party-like atmosphere, Therapeutic Zumba® takes the popular Latin dance inspired workout of Zumba® and makes it accessible for individuals with disabilities, beginners and others needing modifications in their exercise routine. Comfortable clothing, athletic shoes and bottled water are recommended for this class.
Thursday 6:30 p.m
House Party
You're invited to an epic Thursday Night house party. And although we're not in the same house, we'll keep the friendship-vibe going through interactive games, dance parties and more. Grab your favorite snack and plan to join us for a night of fun. In-person class to be announced.
September 12 - October 10
Saturday
Boccee Ball
Have a field day when you play Bocce Ball. Roll into Tumbleweed Park for some fun lawn bowling with friends. You'll also learn the history of the sport, rules of the game, and how to score. Bring your own partner or make a new friend as we assign you a partner. Registration is required as there are only eight spots per time slot. All players must wear a mask and maintain social distancing guidelines as recommended by the CDC. A pre-filled water bottle and lawn chair are also recommended.
8:30 a.m.
9:15 a.m.
10 a.m.
Therapeutic Sports Programs
We've team up with Special Olympics of Arizona to introduce athletes to the world of sports and fitness. Each season sports enthusiasts can enjoy a variety of athletic offerings:
All athletes competing in any Special Olympics sport must have a current Special Olympics Arizona Medical Form on file with the City before beginning practice for any sport. It is also important to note that there is a specific form to be filled out by a physician, as well as the family.
Get into the game by volunteering to be a Coach or sideline assistant.
Accessible Places for Play
Children (and adults alike) need to play, learn and grow together, side by side. Chandler has been a leader in creating play opportunities that allow children and their families to play together, regardless of their abilities. Discover our parks, trails, playgrounds and facility amenities that make Chandler Parks & Recreation truly inclusive for all.
Partners in Play
Collaboration is essential to our Therapeutic Recreation Programs success. We're honored to partner with the following organizations to increase access, safety and social participation within our play experiences.