Each February, South Chandler Self-Help, Chandler-Gilbert Community College, Chandler Men of Action and the City of Chandler are proud to present an extensive variety of community events to celebrate the contributions and history of African Americans.
Regional Unity Walk
Saturday, Jan. 26, 2019 | 4 p.m.
Tempe Beach Park, 80 W. Rio Salado Parkway, Tempe
The Chandler Diversity Office, Chandler Human Relations Commission and other Valley cities invite residents to participate in a free, Regional Unity Walk on Saturday, Jan. 26, to promote mutual respect and understanding.
A free festival at Tempe Beach Park, 80 W. Rio Salado Parkway, will start at 4:30 p.m., and the one-mile Unity walk over the Mill Avenue bridge will begin at 6 p.m.  Attendees can enjoy free refreshments and entertainment and get a free T-shirt while supplies last.
For more information, contact 480-782-2214.
Black Girls Rock: Celebrating the Elegance of Women
Friday, Feb. 15, 2019 | 7 p.m. | Free
Chandler Center for the Arts
Dinner available in the Center Foyer for purchase at 5 p.m.
The South Chandler Self-Help Foundation presents an evening of inspiration and entertainment from local black churches.  Join us we celebrate the achievements of young black women in the community. 
7th Annual African American Banquet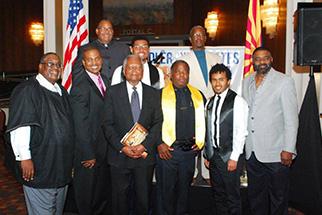 Thursday, Feb. 22, 2019 | 7 p.m. 
Chandler-Gilbert Community College
The Chandler Men of Action present this annual banquet in celebration of the accomplishments made during the year of African Americans and to strengthen our resolve to further our pride, spirit and character. 
A reception will begin at 6 p.m.  Tickets | $40  
Screening of Moonlight (2016)
Wednesday, Feb. 13 | 6 p.m. 
Downtown Chandler Library
Join the Chandler Public Library, Chandler Diversity and Chandler-Gilbert Community College for a film series, to include thought-provoking discussion afterward with faculty members from Chandler-Gilbert Community College including Erica Ocegueda, adjunct instructor, theatre, and PhD candidate, theatre performance of the Americas at ASU; and Donna Thompson, residential faculty, English and women & gender studies.
Screening of I Am Not Your Negro (2017)
Wednesday, Feb. 27 | 6 p.m. 
Downtown Chandler Library