Chandler residents who own a swimming pool must comply with the City's pool fencing requirements. Below are answers to frequently asked questions about pool fencing.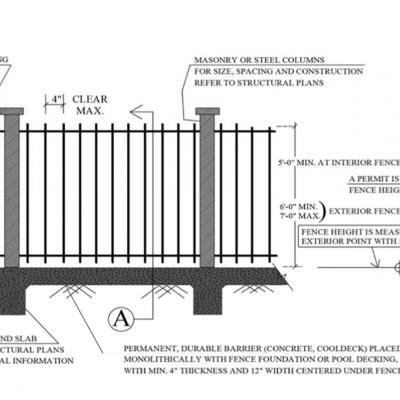 Fence Graphic A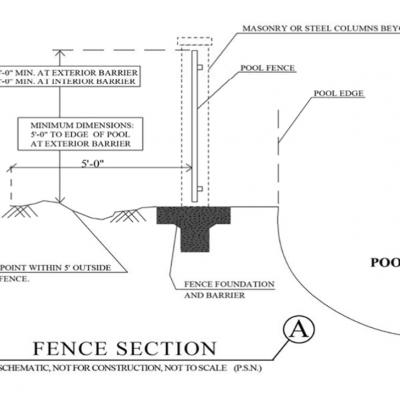 Fence Section A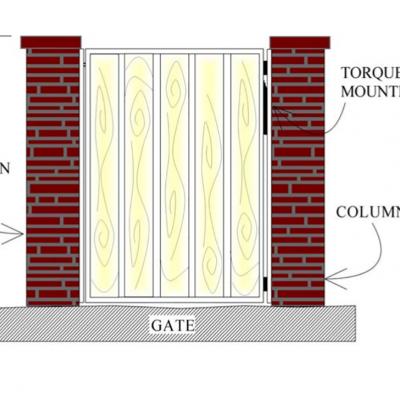 Fence Graphic B
Fence View from Above
What are the City's requirements on where a swimming pool can be located?
The City requires that swimming pools are located in a resident's backyard. Swimming pools cannot be in the front yard. The water's edge needs to be at least five feet from any side or back property line. Residents also must obtain a building permit before the construction of pool fencing. For details on how to obtain a permit, call the City's Development Services office at 480-782-3000.

Am I required to have fencing around my pool?
Yes, all pools must be enclosed by a perimeter fence of masonry, concrete or decorative fencing (such as wrought iron). The City's ordinances on swimming pools include information about both exterior and interior barriers.
 
How high does the fencing for an exterior barrier have to be?
Fencing must be at least six feet high, but not to exceed seven feet in height. A horizontal combination of masonry and wrought iron is permitted with a concrete curb of a maximum of four inches high to prevent erosion. The curb needs to be at least three inches under the ground and one inch above the ground.
 
How would I measure the fencing so that it meets the City's requirements?
Wall and fence heights should be measured on the exterior side of the enclosure from the top of the foundation to the lowest point of elevation within a line five feet from the fence. In a situation where the fencing varies in height, the average height of the majority of the fence is considered the overall height. The fencing must be at least six feet high at all times. For fencing that was constructed before September 1986, the height must be at least five feet and six inches and must not compromise life safety.
 
If I have an interior barrier, what features must my fencing include?
Self-locking gates and/or entrances are needed when openings are provided in pool walls or fences. There cannot be any hand or foot holds for climbing on the fence. Gate latches must be higher than 54 inches above the finished grade and must not require a key to exit from inside the enclosure. Gates for openings greater than four feet wide must be secured with a locking device and be kept locked. All pedestrian gates must be self-closing, self-latching and must open outwards from the pool if no interior barrier is installed. Also, if the fencing is made where there are openings in the design, each opening must be small enough so that a spherical object of four inches in diameter cannot pass through the openings.
 
Can I have a wood fence?
No. When installing a pool, existing wood fencing must be changed to masonry, concrete or decorative fencing.
 
Is there any fencing requirements if my house is against a lake?
A backyard fence is not required between a lakeshore and a swimming pool if public access is not permitted or allowed along the lakeshore and if the side yard fences extend to and beyond the water's edge by a minimum of 18 inches.
 
For more information about Pool Barrier Guidelines, please see: 
Homeowners Building Permit Manual