April 12, 2022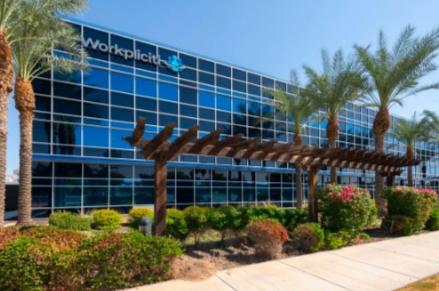 The new office expands the company's presence to the West Coast
CHANDLER, Ariz. (April 12, 2022) — BioProcure, the premier procurement and accounts payable services company for biotech companies, announced today its expansion to a temporary office in Chandler, Arizona. BioProcure expects the temporary office to be operational in April 2022 with plans to establish a permanent Arizona location by 2023.
BioProcure will be located within Workpliciti, which is a flexible office space on the Price Corridor. BioProcure expects to hire approximately 35 employees in the first year and 150 employees within three years. The Chandler location will include procurement, operations, and administrative positions.
"We are very excited for the launch of our new office in Chandler, Arizona. This location is the result of a great team of managers, supervisors, and executives traveling and researching for months to pinpoint the best possible city and state for our expansion," said Vincent Bologna, Co-Founder and CEO, BioProcure. "Our goal was to establish a presence in the Southwest to better serve our clients in the Western time zones, but equally important to us was that our new office be located in a vibrant, up-and-coming city with a thriving science and technology sector.  Chandler, Arizona was the perfect fit."
Founded in Massachusetts in 2007, BioProcure chose to expand their operations to Arizona to better serve their West Coast customers and to be closer to the state's growing life sciences industry.
"BioProcure's expansion highlights Arizona's reputation as a national bioscience leader," said Sandra Watson, President and CEO of the Arizona Commerce Authority. "The company's Chandler office will bring dozens of skilled jobs to Arizona, contributing to Chandler's vibrant technology and innovation landscape. We are grateful to BioProcure for their commitment to Arizona, and we look forward to supporting their operations now and in the future when they establish their permanent office."
"Chandler's business-friendly environment and well-protected employment corridors continue to put us on the short list for companies looking to expand their headcount," said Chandler Mayor Kevin Hartke. "It is exciting to see a company supporting the country's entire biosciences industry select Price Corridor. We congratulate BioProcure on their new office in Chandler and look forward to working with them as they ramp up operations out West."
BioProcure's expansion highlights Arizona's growing presence in the bioscience industry. According to a recent CBRE study, metro Phoenix was first in the nation for growth in life sciences employment between 2019 and 2020, growing 8.5%, the highest of all markets studied.
 
About BioProcure
BioProcure was founded in 2007 by a former Biogen purchasing manager to address the growing pains of startup and emerging biotech companies. It was clear that there was a need for outsourced procurement in situations where space, staff, and funding are limited, stakes are high, and timing is everything. BioProcure's procurement and accounts payable support proved to be a valuable service for researchers, finance departments, and venture capital firms alike.
Over a decade later, BioProcure still provides the best relief for many of the pain points in the frenetic biotech world. Armed with new software and an old-school approach to customer service, we serve the best and brightest in the industry and treat each of our clients like family. For more information, please visit BioProcure.
About the Arizona Commerce Authority
The Arizona Commerce Authority (ACA) is the state's leading economic development organization with a streamlined mission to grow and strengthen Arizona's economy. The ACA uses a three-pronged approach to advance the overall economy: attract, expand, create - attract out-of-state companies to establish operations in Arizona; work with existing companies to expand their business in Arizona and beyond; and help entrepreneurs create new Arizona businesses in targeted industries. For more information, please visit AZ Commerce Authority and follow the ACA on Twitter. 
About City of Chandler, Arizona
Chandler, Arizona has built a reputation as a Community of Innovation. Life in Chandler goes beyond a thriving and dynamic business community with progressive entrepreneurship. Known for its rich diversity, the City offers an outstanding quality of life for all generations with great schools and recreational opportunities. Chandler has grown to become the state's fourth largest City with a population of more than 282,000. Chandler has been named one of the nation's Best Places to Find a Job and Best Cities for Women in Tech. The City also is one of the safest communities in the nation and boasts AAA bond ratings from all three national rating agencies, one of only 40 communities to achieve this distinction. For more information, visit the City website, or connect with the City on social media.
Media contacts:
Kara Rea
BioProcure
Alyssa Tufts
Arizona Commerce Authority
Stephanie Romero
City of Chandler 
480-782-2231