Aug. 7, 2018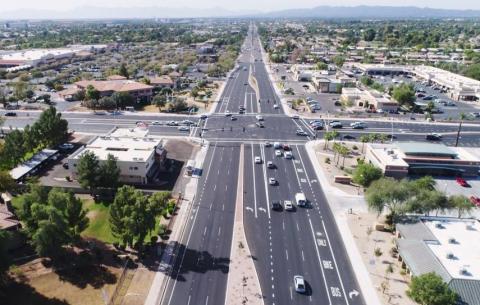 The Arizona Chapter of the American Public Works Association has recognized a major intersection improvement project in Chandler as their "Project of the Year."
The $11 million Alma School Road/Chandler Boulevard Intersection Improvement Project was completed late last year and brings the promise of reduced delays and increased safety. A 'before and after' crash analysis of nine previously improved intersections showed average reductions in total crashes of 43 percent and injury crashes of 49 percent.
The project received the award in the Transportation category for construction projects costing between $5 million and $25 million. The award was presented Aug. 2, at the association's Statewide Conference held in Tucson. The award recognizes public infrastructure projects that exemplify excellence in management and administration, including safety performance, construction techniques, community relations and environmental stewardship.
The intersection improvements involved the complete rebuilding of the intersection to add dual left-turn lanes, dedicated right turn lanes, bike lanes, bus pullouts, new signals, street lighting, water lines, catch basins, scuppers, curbing, raised and flush medians, landscaping, a third through-lane on Chandler Boulevard and the relocation of private utilities, such as Southwest Gas, Century Link, APS and SRP.
The intersection improvements were accomplished while accommodating 62,000 vehicles per day and maintaining access to 88 surrounding businesses.  The project team was encouraged to support the intersection businesses by spending money in the project area. By the end of construction, the project team had spent just under $20,000 at the surrounding businesses.
The project was designed by Kimley-Horn and Associates, Inc. The Construction Manager was Ritoch-Powell & Associates. Standard Construction Company, Inc. constructed the improvements.