Feb. 7, 2023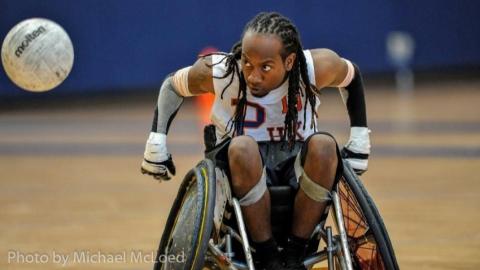 CHANDLER, Ariz. – Five individuals who have brought recognition to Chandler through their athletic accomplishments will be celebrated at the upcoming Chandler Sports Hall of Fame Induction Ceremony and Luncheon.  The ceremony will be held at the Hamilton High School Auditorium on Saturday, Feb. 18 at 11 a.m.
The Chandler Sports Hall of Fame inductees include:
Joe Jackson, Wheelchair Rugby (pictured at left)
Eric Jacobsen, Basketball
Brittany Thomas Kouandjio, Volleyball
Bryce Perkins, Football
Coach Karen Self, Basketball
In addition to the inductees, the Sports Hall of Fame will give a nod to the Seton High School Girls Basketball State Championship teams throughout Coach Self's tenure. Special Recognition Awards will be given to Athletic Trainer, Justin Deer, and Athletic Announcer, Dave Nardi.
"This year's class features an iconic coach and athletes that will forever have their names etched in stone. All these honorees have represented the City of Chandler in a way that is second to none. Congratulations class of 2023 Chandler Hall of Fame inductees," said Shawn Rustad, co-chairman of the Chandler Sports Hall of Fame Committee and Director of Secondary Athletics for Chandler Unified School District.
The Chandler Sports Hall of Fame, along with the Chandler Museum, celebrates the rich history of Chandler athletics by honoring those teams, athletes, coaches and administrators who have brought recognition to the City of Chandler through their exceptional talent. Since 2004, the Chandler Sports Hall of Fame has recognized some of the best athletes, coaches and teams that call Chandler home.
Tickets for the event, which include both the induction ceremony and luncheon, are $15 and available online through Eventbrite.
Chandler Museum is an innovative learning environment where the community comes together to share our stories, store our cultural heritage and experience Chandler as a people and place. The vision of the Museum is to be the community's principal resource to explore its people's history, culture, and place in a rapidly changing world of today – within and without the walls of a building. Find more information, visit Chandler Museum. 
Chandler Sports Hall of Fame is a nonprofit 501c3 organization with the purpose of honoring the athlete who have brought recognition to the City of Chandler and who have made a significant contribution to Chandler's athletics community. To learn more about the Chandler Sports Hall of Fame and its inductees, visit ChandlerPedia.
Media contact:          
Tiffani Egnor
Chandler Museum Programs and Operations Manager
480-782-2874