June 2, 2023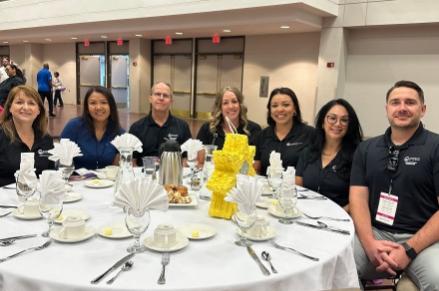 CHANDLER, Ariz. – Congratulations to Chandler's Neighborhood Programs Office —during a recent Neighborhoods, USA (NUSA) Conference, they were honored with two "Best Neighborhood Programs" awards. NUSA is a national organization that brings together public sector organizations focused on neighborhoods and building stronger communities.
The team won first place in the Physical Revitalization/Beautification category for Chandler's annual For Our City Day event. This annual event brings together more than 1,000 volunteers to support a Chandler (non-HOA) neighborhood on a variety of exterior improvement projects. Projects include basic yard work, painting homes, spreading gravel, disposing unwanted items and a general neighborhood cleanup. Last year's For Our City Day was held in the Pepperwood neighborhood near Chandler Fashion Center. Watch this video to learn how this event impacted Chandler residents in the Pepperwood neighborhood.

The team also won second place for "Best Neighborhood Program" in the Social Revitalization/Neighborliness category for the Golden Neighbors program. Golden Neighbors was created by the City's Neighborhood Programs staff with the premise of ensuring our seniors are not forgotten and to provide them with a direct connection to local nonprofits. During its first year, the program served 278 senior residents.

The free program connects senior residents with resources for cost-of-living assistance and large home repairs, basic household supplies, and assistance finding transportation to medical appointments. Golden Neighbors also provides opportunities for participants to come together and build community with other senior residents experiencing similar challenges.
In addition to assisting 200+ residents, the program hosted 10 events, distributed 327 supply kits, donated 90 holiday gifts, spread nearly 32 pounds of gravel for seniors in need of yard maintenance and facilitated collaboration between the city and multiple community organizations.

To get involved with this year's For Our City Day event, or Golden Neighbors, visit Neighborhood Volunteers, or connect with our Neighborhood Programs Office at 480-782-4348.

Media contact:
Stephanie Romero
City of Chandler, Public Information Officer
480-782-2231