Aug. 17, 2023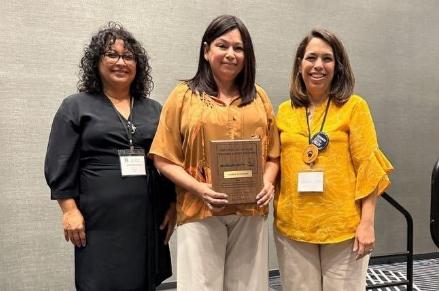 CHANDLER, Ariz. – Vickie Ellexson, a family self-sufficiency specialist with the City of Chandler, was recently named Employee of the Year in the Housing Choice Voucher (HCV) category by the Arizona Chapter of the National Association of Housing and Redevelopment Officials (NAHRO) and the Arizona Housing Authority Directors Association (AHADA). Each year both organizations jointly recognize excellence throughout the State during an awards program held at the Arizona NAHRO conference. 
For this Employee of the Year category, nominees had to demonstrate excellence in performing duties with the highest degree of integrity and professionalism, demonstrating courtesy, concern, responsiveness and dedication both within and outside the industry. Ellexson's nomination was submitted by her supervisor Amy Jacobson.
Ellexson has been part of Team Chandler for the past 13 years. She currently oversees the Family Self-Sufficiency Program (FSS), a voluntary program that currently helps more than 120 Public Housing residents and Housing Choice Voucher (HVC) participants work towards financial independence. 
"Vickie has been a stable force in the Family Self-Sufficiency program for more than 13 years and her dedication to the success of her clients is admirable," said Housing and Redevelopment Manager Amy Jacobson. "Over the years, she has helped families overcome life challenges with a clear path of proven goal-setting strategies to help families achieve their financial dreams. Vickie embodies the spirit of the FSS program and as you can see she has touched the lives of many families in Chandler."
In addition to Ellexson being honored, two of Chandler's HCV (Section 8) clients were presented with awards as current and past participants during the awards ceremony. Jasmine Valentine was honored as Family Self-Sufficiency participant of the year, and Bruce Tran was honored as Hero of Assisted Housing.
Valentine has been an FSS program participant since July 2021. As a single mother to three sons, her motivation is to no longer live paycheck to paycheck. She's working with Newtown, a nonprofit that helps people afford houses, to increase her credit score to work toward homeownership. Valentine has a bachelor's and master's degree in Criminal Justice and works for Maricopa County as a case worker and victims advocate with the Human Exploitation and Trafficking unit. 
Tran was a program participant for seven years and is well on his way to financial independence. He recently graduated from the city of Phoenix Police Academy this summer and is currently in training with Phoenix Police. Tran also finds ways to give back and donates computers he refurbishes to public housing youth.
For more information about Chandler Public Housing initiatives, visit Chandler Affordable Housing.
Photo caption: L to R - Irma Hollamby, President of AZNAHRO; Vickie Ellexson, Liz Morales, Past President of AZNAHRO and Tucson Assistant City Manager.


Media contact:
Stephanie Romero
City of Chandler, Public Information Officer
480-782-2231