Nov. 3, 2021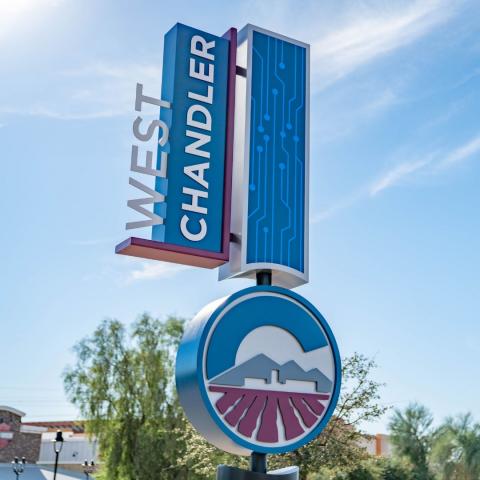 CHANDLER, Ariz. – During the 2020 Chandler State of the City Address, Mayor Kevin Hartke announced that the City would launch a branding initiative for its West Chandler employment corridor. This area is a significant economic driver for the City and is home to more than 630 businesses employing a total of more than 29,000 workers. With nearly six miles of frontage along Interstate 10 and Loop 202, it is also seen by hundreds of thousands of commuters each day. Despite this, West Chandler has lacked a strong brand identity and parts of the area are often confused as being in Phoenix or Tempe.
"When you enter West Chandler, we want you to know that you are in an important part of our community," said Chandler Mayor Kevin Hartke. "When you hear the name 'West Chandler', we want you to envision a vibrant and dynamic employment corridor."
The City's Economic Development Division is leading a couple of projects aimed at strengthening West Chandler's image and sense of place. First, signage has been installed near major intersections throughout the area. The signs are 15 feet tall, with "West Chandler" lettering, and a high-tech theme that reflects the area's industry base. The City worked with YESCO, a custom sign builder in West Chandler, to design and install the signs. Seven signs have been installed so far with two more planned.
In addition, a multi-channel marketing campaign is helping to promote West Chandler. Marketing activities will include a combination of social media posts, digital ads and print ads highlighting West Chandler business success stories, development projects, and why the area is a great place to invest. The City will also host several giveaways online to promote Chandler-based businesses. The promotion is strategically timed to support West Chandler businesses during the holiday shopping season and start of construction on the I-10 Broadway Curve Improvement Project.
"Our marketing strategy for West Chandler will target different audiences," said Economic Development Director Micah Miranda. "In addition to local stakeholders, we are going to be promoting West Chandler to technology companies outside the state who would be a good fit for the area."
The decision to enhance West Chandler's brand identity is consistent with the Chandler City Council's Strategic Framework, which serves as a guiding document for City activity. The branding initiative ties in multiple focus areas, including Economic Vitality, Neighborhoods, and Quality of Life. It is hoped that the City's efforts will generate excitement and support the significant private sector investment that has been occurring in the West Chandler employment corridor.
To learn more, visit West Chandler.
About the City of Chandler:
Chandler, Ariz. has built a reputation as a Community of Innovation. Life in Chandler goes beyond a thriving and dynamic business community with progressive entrepreneurship. Known for its rich diversity, the City offers an outstanding quality of life for all generations with great schools and recreational opportunities. Chandler has grown to become the state's fourth largest City with a population of more than 280,600. Chandler has been named one of the nation's Best Places to Find a Job and Best Cities for Women in Tech. The City also is one of the safest communities in the nation and boasts AAA bond ratings from all three national rating agencies, one of only 40 communities to achieve this distinction. For more information, visit the City website, or connect with the City on social media.

Media contact:        
Stephanie Romero   
City of Chandler, Public Information Officer
480-782-2231