Aug. 7, 2019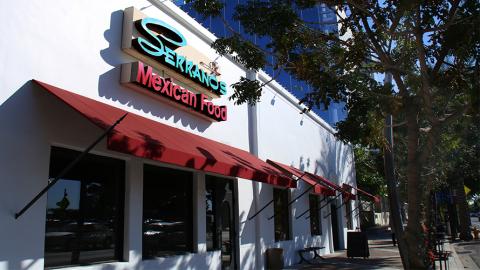 Serrano's Centennial Fiesta to be held Sept. 19 at Downtown Chandler location; $1.00 specials featured at all five locations Sept. 16-21
The Serrano family will celebrate 100 years as a family owned business in Chandler, Ariz., with a Centennial Fiesta at the Serrano's Mexican Restaurant location in downtown Chandler from 5-9 p.m. Thursday, Sept. 19, 2019.
The Chandler-based family business launched in September 1919 as The Serrano Brothers Popular Store, making it the oldest continuously owned family business in the city. With fewer than 1,000 residents in Chandler at the time, The Popular Store sold clothing and other goods to local farmers. It eventually evolved into Serrano's Department Stores and the family opened several other locations throughout the East Valley and Phoenix.
"The Serrano family is ingrained in Chandler's history," said Chandler Mayor Kevin Hartke. "Their entrepreneurial spirit, hard work, dedication and family pride has sustained them throughout these past 100 years. We honor their strong ties to the community and their heart of service as they celebrate this incredible milestone."
By the 1970s, the growing popularity of large department stores and indoor shopping malls took its toll on the family's independent department stores. Ernie and Eva Serrano decided it was time to transition away from the clothing business. They took a leap of faith and opened a Mexican food restaurant in 1979 (La Casa Serrano – now Serrano's Mexican Restaurants) in downtown Chandler, and the family has focused on that venture for the past 40 years (Serrano's Department Store in downtown Chandler closed in 1981). Today, Ernie and Eva's eight adult children own and operate the restaurants.
"Our family has seen our fair share of changes and challenges over the years, but we have always been able to adapt. Today, our business model is centered around the values we hold most dear – faith, family and food," said Ric Serrano, president and CEO of Serrano's Mexican Restaurants. "We look forward to celebrating this big milestone with our loyal customers and we invite new customers to come give us a chance. You can be sure we'll be breaking out our famous bean dip!"
At the Centennial Fiesta on Sept. 19, attendees will be treated to $1.00 taco (shredded beef or chicken), rice and bean entrees. At 7 p.m., a taco-eating contest featuring local mayors and representatives from police and fire departments will take place with a prize of $1,000 to be donated to the 100 Club of Arizona benefiting families of fallen police officers and firefighters. There also will be family fun, including face painting, raffle prizes and kids' activities.
"It's so incredible that our beloved Serrano's is celebrating 100 years, and graciously supporting Public Safety through the 100 Club of Arizona in return," said Angela Harrolle, president and CEO of the 100 Club of Arizona. "100 for 100 sounds like a true match and we are grateful for the partnership!"
Additionally, Serrano's will be collecting new children's books and bears (stuffed animals) for the annual W. Steven Martin Police and Fire Toy Drive. Anyone who brings in a new book or bear donation ($10 value) during the month of September will receive a voucher for a free fried ice cream.
Also throughout the month of September, the Serrano Centennial Sampler will be on special for $10 and $1.00 from every sale will go to The 100 Club. The Serrano Centennial Sampler highlights some of the most popular classics, including scoops of machaca, shredded chicken, green chile beef and red chile beef, served alongside warm tortillas, rice and beans.  
In honor of the 100th anniversary, Serrano's also will feature several $1.00 specials at all five locations beginning Sept. 16:
Monday, Sept. 16:

$1.00 Margarita Monday 10 oz. house margarita

Tuesday, Sept. 17:

$1.00 Taco Tuesday (street taco or shredded beef/chicken crunchy taco)

Wednesday, Sept. 18:

$1.00 Hump Day Heavenly Bites

Thursday, Sept. 19:

$1.00 Throwback Thursday (shredded beef or chicken taco, rice and beans entree)*

Friday, Sept. 20:

$1.00 Fried Ice Cream Friday

Saturday, Sept. 21:

$1.00 Cerveza Saturday 10 oz. draft Mexican beer
*limit of one special per person; all specials are dine-in only
For more information about Serrano's Mexican Restaurants, please visit Serrano's Mexican Restaurants.

About Serrano's Mexican Restaurants:
Launched in 1979 by Ernie and Eva Serrano, Serrano's Mexican Restaurants offer fresh, delicious Sonoran-style Mexican food with recipes passed down through the generations. The Serranos are proud to be the oldest, continuously owned and operated family business in Chandler, Ariz., celebrating 100 years of business in 2019. Today, Ernie and Eva's eight children own and operate Serrano's Mexican Restaurants. Six of the eight children and several grandchildren are involved in the restaurants on a day-to-day basis. From cooking to catering and payroll to operations, it is truly a family affair. There are five Serrano's locations in Chandler, Mesa, Queen Creek and Tempe, Ariz. For more information, visit Serrano's Mexican Restaurants.
Serrano's Timeline
September 1919:   Brothers Albert and Luis Serrano open The Serrano Brothers Popular Store in Downtown Chandler with $10,000 in inventory (moved over time but department store eventually closed in 1981)
1928: Department store expanded into Casa Grande
1947: Department store expanded into Gilbert
1954: Department store expanded into Mesa (closed in 1974)
1959: Albert sold the family business to his two sons, Ernie and Rudy; Phoenix department store opened (closed in 1977)
December 1979: Ernie and Eva Serrano open La Casa Serrano in Downtown Chandler, the first Serrano's Mexican Restaurant
1981: Serrano family opens Brunchies, a breakfast and lunch restaurant in Downtown Chandler (closed in May 2016)
May 1985: Restaurant opens on Rural in Tempe
January 1992: Restaurant opens on McKellips in Mesa
Summer 1993: Restaurant on Thunderbird in Phoenix opens (closed in fall 1998)
Summer 1994: Restaurant on Dobson in Mesa opens (closed in 2012)
1996: Serrano's named Small Business of the Year by Chandler Chamber of Commerce
May 1997: Restaurant on Val Vista in Mesa opens (closed in 2016)
Summer 1997: Restaurant in Ahwatukee Foothills opens (closed in 2006)
Sept. 1997: Restaurant on Power in Mesa opens
May 31, 2000: Fire at Chandler Serrano's (partially reopened in 3 weeks, completely reopened in Feb. 2001)
2003: Began serving lunch to homeless once a month at St. Vincent de Paul kitchen in Mesa
Aug. 2004: Restaurant in Queen Creek opens
2005: Awarded Spirit of Enterprise from Arizona State University
Oct. 7, 2012: Serrano's closes all of its restaurants on Sundays so employees can be with families; Serrano's remains closed on Sundays today.
Media contact:         
Stephanie Jarnagan
Think Communications
480-201-7572                        
Stephanie Romero
City of Chandler
480-782-2231