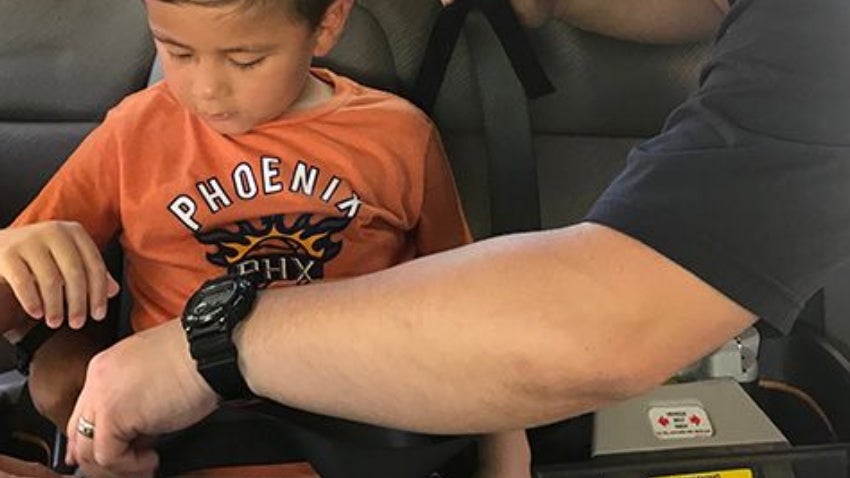 Motor vehicle crashes are the leading cause of death among children ages 2 to 14. A primary reason for this is the nonuse/improper use of child seats and seat belts. Our goal is to ensure every child is properly secured within a vehicle during every trip. To accomplish this, the Chandler Fire Department's Child Safety Seat Program teaches parents and caregivers how to properly install child safety seats into their vehicles.
Further, CFD's certified car seat technicians will also inspect and install the car seats during its Car Seat Clinics. These clinics are by appointment and are usually held each Saturday morning. If you don't have an appointment, you can stop by the clinic and they will try to accommodate you.
The address where the clinic is located will show at the top of the scheduling page. Please remember to look when you are signing up or you can call 480-782-2120 before 5 p.m. on Friday before the event. Locations vary depending on the day. Appointments are approximately 20 minutes per car seat.
Schedule an Appointment
 
Please note:  We ask that you clean your car seats thoroughly prior to arriving for your scheduled appointment. Our technicians cannot do their job as effectively in a messy environment, and your installation cannot begin until the seats are clean. CFD will have some cleaning supplies at the clinic that drivers can use prior to their appointment.
Courtesy of: National Highway Traffic Administration

See something, say something
If you see an unbuckled child in a moving vehicle, call 1-800-505-BABY. Be prepared to provide:
the

vehicle's license plate number and state

the city where the violation occurred,
the location 

the child was in the vehicle (front seat, driver's lap, etc.)      
The vehicle owner will receive a letter saying that an unbuckled child was observed and that the law requires children under five to be properly secured. The letter is not a ticket but serves as a chance to inform the owner of the vehicle about keeping children safe in the car.