Smoke Alarm Safety Check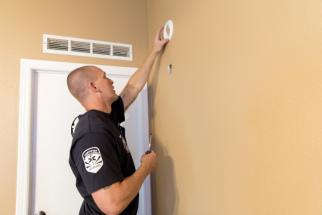 The Chandler Fire Department's Smoke Alarm Program uses trained volunteers to ensure that there are working smoke alarms in every Chandler home.
Volunteers can:
Test smoke alarms and change batteries.

Install battery-operated smoke alarms purchased by the homeowner.

Provide free smoke alarm(s) to qualifying individuals or families in need.

Volunteers cannot do wiring or electrical work. If your home has hardwired smoke alarms, our volunteers will be happy to replace the batteries, but they will not service or install hardwired alarms.
To make an appointment, please call 480-782-2160.
Smoke Alarm Maintenance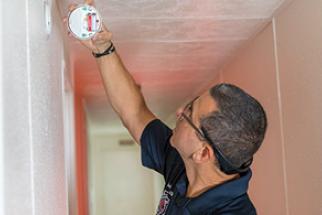 Remember to test your smoke alarm batteries at least once a month, replace alkaline batteries at least once a year, and replace all smoke alarms every 10 years. For the more information on types of residential smoke alarms, and on installing and maintaining smoke alarms, visit the National Fire Protection Association.
Become a Volunteer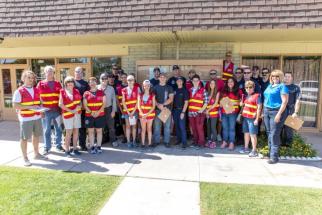 Smoke Alarm Volunteers provide Chandler residents with a potentially life-saving service that includes:
Installing smoke alarms

Replacing batteries in current smoke alarms.

Educate the entire household on fire safety.