Residents paying for City-provided solid waste services can schedule a free curbside recycling and/or trash bulk collection every six weeks. If you would like an additional bulk collection in between the six weeks there is a fee.
There are many local charity groups offering curbside pick up for items often discarded as trash, and most charities offer a tax deduction for your generosity. Please consider donating items prior to scheduling a bulk collection.
How do I schedule a curbside bulk collection?
Ratepayers, or authorized users by the ratepayer, may schedule a bulk collection by calling 480-782-3510 or by completing the Bulk Request Form. Note: Scheduling via the online form requires 7-14 days advanced notice.
Schedule a Bulk Pick-up

Can I schedule a bulk collection to be picked up in the alley?
No. Per Chandler City Code, Chapter 44-6.4: "... Bulk materials shall only be collected if placed along the right-of-way behind the curb, on the property of the covered residence. Bulk materials to be collected shall not be collected when placed in public or private alleys."
What is considered a bulk item?
Most often, excess household waste or items too large to fit in a residential curbside or alley trash container.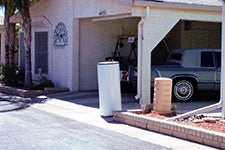 Recycle Bulk - Common Items:
Excess cardboard; emptied and flattened

Disassembled

 metal items such as patio furniture, grills, playground equipment, etc.
Large and small appliances such as water heaters, washer, dryer, dishwasher, stove, toaster ovens, microwaves, window AC units, etc. Applicable fees apply for Freon removal for freezers, refrigerators, and any other type of Freon bearing unit. View City Fee Schedule.
*Electronics (Computers, flat-screen LCT computer monitors, LED, LCD, plasma TVs, printers, stereos, microwaves, etc.) Flat-screen (non-CRT) TVs and monitors are collected as a recycle bulk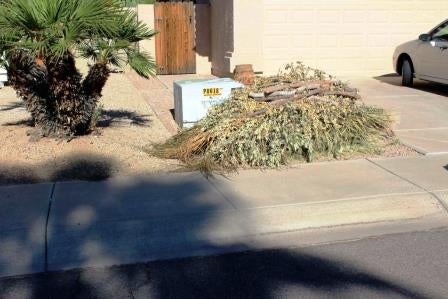 Trash Bulk - Common Items:
Tree trimmings and yard clippings. City Code, Chapter 44-6 states requirements for bulk collection.
Broken, non-repairable furniture
Broken, non-repairable toys
Household trash and textiles
CRT, console and projection TVs, and CRT Computer Monitors
Please Note: When scheduling a bulk collection, a list of items you are requesting for pick up is required, as different trucks are scheduled, based on types of items collected. 
What materials are not accepted?
The most common waste not accepted includes building and construction materials, such as sheetrock, wood paneling, cinder blocks, bricks, and roofing materials. Other unacceptable waste includes dirt, gravel, propane tanks, tires, auto parts, and liquid, hazardous, or medical waste.
 
Where can residents take large items if bulk collection is not available?
Chandler residents can self-haul to the City's Recycling-Solid Waste Collection Center located at 955 E. Queen Creek Road. The center is open from 8 a.m. to 4 p.m., Thursday through Monday, and closed Tuesday and Wednesday.
For additional details call Solid Waste Services at 480-782-3510.
Are there size restrictions and weight limits for bulk items?
Yes. Curbside bulk collection is a manual process performed by one or two contractor staff. On average, between 80 and 120 homes are scheduled for curbside bulk collection each day. For safety and efficiency, it is necessary to have bulk size restrictions and weight limits.