Is there a street light out in your neighborhood? Tell us where, and we'll make the repair.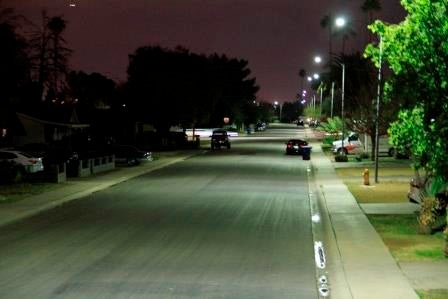 Street Light Repair Hotline | 480-782-3460
The City of Chandler maintains more than 24,200 street lights along its major streets and in residential areas.
City crews do not repair street lights in private gated communities. Problems with street lights in private communities should be referred to the homeowners association who, in general, coordinates with utility companies, such as SRP or APS.
Street lights are repaired during daylight hours; therefore it is important that we have the most accurate description of where the street light is and the nature of the malfunction.
Street light pole location:

Pole Number:

Nature of the problem:

Name:

Address:

Daytime Telephone Number:

Zip code:
Street light repairs are scheduled according to zip code.
Monday 85224
Tuesday 85226
Wednesday 85225
Thursday 85248/85286
Friday 85249
For more information, contact:
Chandler Traffic Engineering Division
480-782-3454