Chandler has joined other Valley communities in using photo enforcement to reduce the rate of red light running offenses and accidents.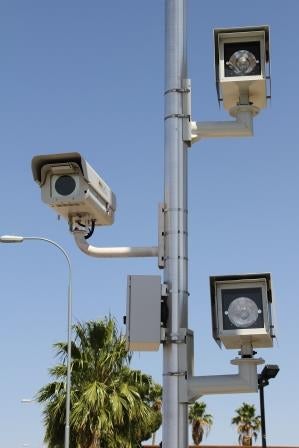 While the Police Department does a great job to make Chandler streets safe, Chandler's Red Light Photo Enforcement Program provides round-the-clock monitoring of intersections where accidents occur most frequently. Offenders have the option of paying a fine or paying a fee to attend traffic school. Citations are printed with photographic records of the offense so drivers can see the record personally.
To further boost the safety of driving on Chandler's streets, the Police Department implemented the Speed on Green Enforcement Program. Like the red light program, speed on green is in place to aid the Police Department in monitoring intersections where higher numbers of accidents occur. Cameras in these intersections do not just operate when a signal is ignored, but also when the posted speed limit is exceeded.
From day one, the goal of the program has been to reduce the number of collisions and their severity by influencing driver behavior. National studies and statistics collected in Chandler show that there is a significant reduction in accidents at intersections that are photo enforced.
Camera Locations
There are 12 intersections with photo enforcement cameras in Chandler. At the twelve intersections, there are photo enforcement cameras to cover speed and red light violations. The twelve controlled intersections in Chandler are:
Alma School Rd and Queen Creek Rd
Alma School Rd and Ray Rd
Alma School Rd and Warner Rd
Arizona Ave and Ray Rd
Arizona Ave and Warner Rd
Arizona Ave and Ocotillo Rd
Chandler Blvd and Dobson Rd
Chandler Blvd and Kyrene Rd
McQueen Rd and Queen Creek Rd
Ray Rd and Dobson Rd
Ray Rd and McClintock Rd
Ray Rd and Rural Rd
The red light and speed on green cameras, when their warnings and penalties are heeded, can help keep all of Chandler's citizens safe.