Family Bike Ride
Each April, Chandler holds a Family Bike Ride. 
The 7.8-mile ride is held in conjunction with Valley Bike Month and will start at Chandler's Park & Ride lot. The event is free; however pre-registration is encouraged.
Dockless Bike Share Programs
Dockless bike and scooter sharing companies are privately owned and operated and are not affiliated with the City. 
If you have a concern about where a bike or scooter is parked, please contact the appropriate company directly so that they can relocate the bike or scooter.  Below is the contact information for the companies that may be operating in Chandler.
Ofo Bike
Lime Bike

Call or text: 888-546-3345
support@limebike.com
Bird Scooter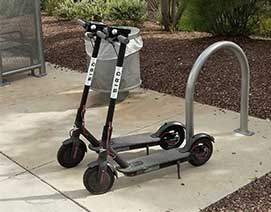 If you get no response from the bike or scooter share company, please contact Jason Crampton with the City of Chandler Transportation Policy Division at 480-782-3402.  
Abandoned Bikes
If you see a privately-owned abandoned bicycle that needs to be removed, please contact the City of Chandler Streets Division at 480-782-3500.