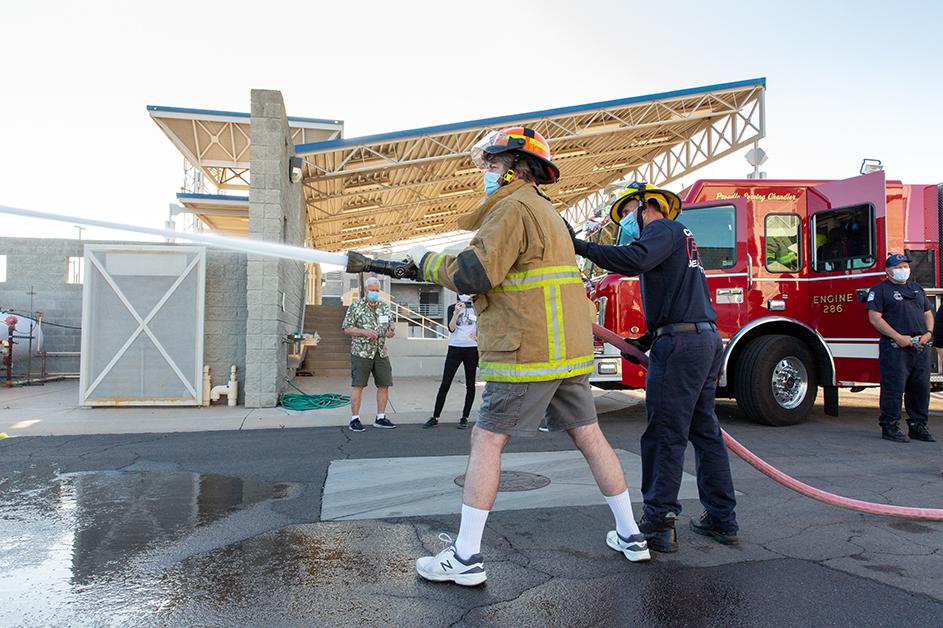 This year, 22 residents took a behind-the-scenes look at how the City of Chandler functions. The CIVIC program, which launched in January, offered an inaugural class of participants the chance to intimately connect with their government.
Over the course of five months, participants met with City leaders, toured essential facilities, participated in interactive sessions from City departments and were given tools and resources to help them stay engaged with the local community for years to come.
The idea for CIVIC was born from an initiative between Mayor Kevin Hartke, the Chandler City Council and the City's Government Relations Division. According to Government Relations Coordinator Alexis Apodaca, the goal was to find an ongoing way to get residents engaged with the City on a deeper level.
"Civic engagement is vital to properly address the needs and future of this community," Apodaca said. "We founded CIVIC as a way to better engage our residents and future leaders."
Sessions with City departments were built to provide residents with knowledge while staying interactive and interesting. City departments that hosted sessions for participants included Law, Police, Fire, Community Services, Development Services, Management Services, Human Resources, Cultural Development, Neighborhood Resources and the Mayor and Council.
Within these presentations, participants were given the opportunity to:
Participate in a build-your-own-park simulation

Meet with community homelessness outreach professionals

Hear about the City's economic development strategy

Learn about the Chandler Municipal Airport

Participate in firefighting training activities and rode in a bucket truck

Participate in a build-your-own budget exercise

Learn about City transit, transportation and ADA planning

Tour a City water reclamation facility

Hold a Q&A with the Mayor and City Council

Learn about arts and cultural programs in the City

Hear about further opportunities to get involved with the City, including serving on boards and commissions
The free program was open to any applicant over the age of 18 living in the City of Chandler.
Program participants were selected to be largely representative of the community. The group of graduates included residents with a range of backgrounds, including doctors, professionals, students, retirees and parents. Additionally, the group consisted of residents from all parts of Chandler, including the north, south, east, west and downtown areas.
"The inaugural CIVIC cohort was energized, curious and passionate about Chandler," said Mayor Kevin Hartke. "We created this program to educate our residents, but the City ended up learning a lot from the participants as well. CIVIC is fostering future leaders and I look forward to working with the graduates as they initiate ways to positively impact Chandler."
Participant Spotlight: Linda Recker
In your own words, how was your experience in CIVIC?
It was a great program, and I felt honored to be selected as part of the inaugural cohort. I learned so many things about the City that I didn't know – not just about the services provided, but also about how well we compare to our neighboring cities. I really appreciated the City pushing ahead with the program in the midst of COVID, and I'm sure it's going to be even better next year.
What were some of your takeaways from the CIVIC program?
The thing that most impressed me was the significant enthusiasm of the City directors and staff.  You could tell it was authentic – by their excitement to share what they do, by their tenure with the City and the obvious effort they went to to make it a good experience for us. I've managed large teams throughout my career, so I can really appreciate a dedicated and inspired staff.  They were impressive.
I also appreciated that the Mayor personally extended an invitation to us all to meet with him on a one-on-one basis. Initially, I thought it was a throw-away comment, but I soon realized he was sincere. Many of us took him up on it, and I really enjoyed our meeting, as did the others I spoke to.
What was your favorite session?
It is difficult to pick a favorite session. I found the two sessions with public safety fascinating.  We got to see the training facilities and enjoyed demonstrations by both Police and Fire departments. We also were able to ask tough questions about the challenges they face and how they are evolving. I also really enjoyed the session on economic development. I was an economics major and spent my career in finance, so that one really spoke to me. 
I learned from all of them – the economic engine of our airport, the thoughtful planning that goes into our park development, the housing services that are offered – I learned so much.  It was awesome.
The Future of CIVIC
The City's Government Relations team is working with this year's participants to evaluate the program and create a plan to develop new activities and experiences for the next CIVIC cohort. For more information or to add your name to a list for information when the next application dates become available, contact Alexis Apodaca at 480-782-2216.