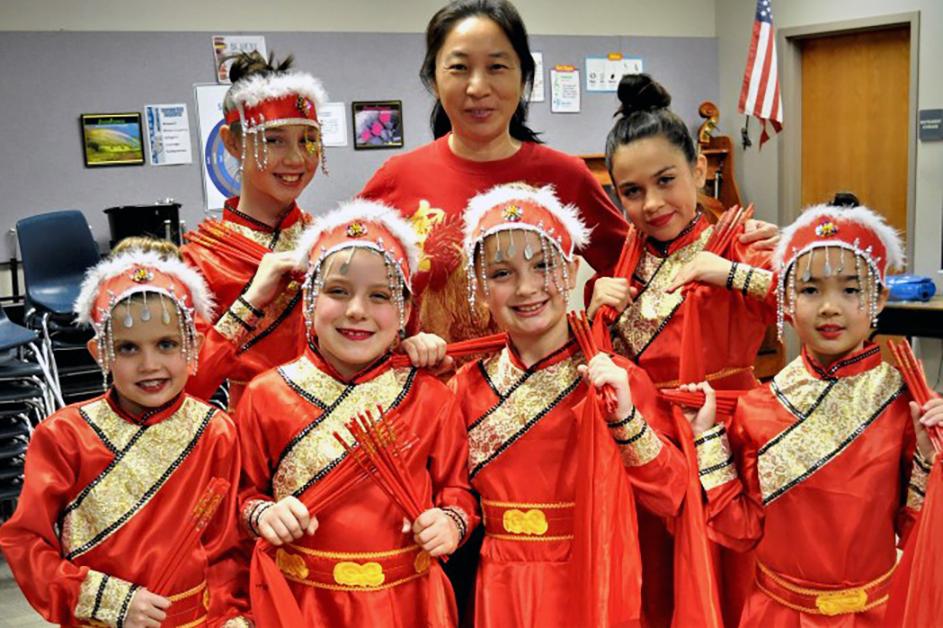 At Tarwater Elementary School, more than 250 students in grades K-5 spend half of their day learning in Mandarin Chinese, and half learning in English when school is in session. The school, located in southwest Chandler, is home to the only Mandarin Dual Language Immersion program in the East Valley.
On campus, Chinese culture and celebrations are a school-wide focus. In January of this year, the school hosted its largest ever Chinese New Year Celebration with the help of a Diversity Education Mini-Grant Scholarship from the City' Diversity Office. 
As part of the City's long-term goal to foster a culture that embraces unity, Chandler's Diversity Office and Human Relations Commission offer mini-grants of up to $1,000 to teachers, schools, nonprofit organizations and community groups to use towards celebrating and educating about diversity.  
This year's event featured food, performers, cultural demonstrations and crafts for students, teachers, family and members of the community to bring the school's celebration of the Chinese New Year to life. 
Chinese New Year Celebration at Tarwater Elementary School
In the past, celebrating the Chinese New Year at Tarwater Elementary has been a relatively small, classroom-based experience. But this year, thanks in part to the Diversity Mini-Grant Scholarship, the celebration expanded beyond classroom walls.
"For this year's celebration, we wanted to make it bigger and invite the community," said Diane Hale, Principal of Tarwater Elementary School. "We wanted to create that feeling of being in Beijing for the New Year." 
Organizers invited a number of Chinese-heritage groups and performers to attend and participate in the celebration, including professional lion dancers, Chinese singers and a number of Asian-fusion food trucks.
"The Asian-fusion food trucks were a good representation of blending two cultures," Hale said. "It all added to the experience of bringing a Chinese cultural celebration to our campus right here in Chandler."
Hundreds of people gathered in the campus courtyard to attend the event. The space was decorated with lights and traditional lanterns, and a large screen displayed a slideshow of pictures of China to help transport visitors and make it feel like a more authentic experience.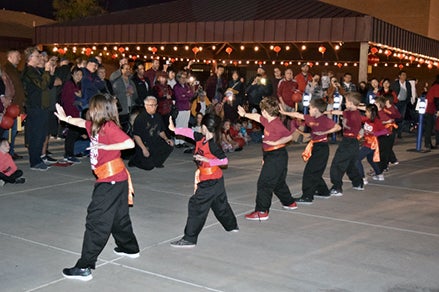 Hale said one of the best compliments she received was from a teacher at the school who was born in China. 
"The event was busy and crowded, and cleaning up was dirty. One of the teachers made a comment about it, and I apologized. He said, 'No, no I loved it — it felt like being back home.' That comment was very meaningful coming from someone who was from the country we were celebrating. We worked really hard to replicate the feeling of celebrating the Chinese New Year with family."
Hale said Tarwater is in a unique position to be able to go into such great depths celebrating and learning about Chinese culture through this event and others at the school. Thanks to the grant funds from the City, the school was able to make this the most immersive Chinese New Year celebration yet. 
"Giving students an authentic cultural experience was really great," Hale said. "It is very different from being in a classroom talking about it. It was powerful to have the community involved and to be able to show and recreate the celebration, rather than tell." 
About Tarwater Elementary 
Tarwater Elementary School, part of the Chandler Unified School District, is home to the only Mandarin Dual Language Immersion program in the East Valley. It offers a diverse student body and the option to learn a half day in Mandarin, and a half day in English.
No experience in Mandarin is necessary for students enrolling in the program. The program is open to students and parents seeking a unique and global learning experience.
Visit Tarwater Elementary School for information on open enrollment. 
Diversity Mini-Grant Scholarships
As teachers and students prepare for their return to school, it is not too early to begin preparations for events aimed at diversity education for the upcoming school year. 
Funded proposals will foster diversity education for youth ages 5-18 and will promote the Human Relation Commission's mission "to promote mutual respect and inclusion in Chandler" and work toward the "elimination of prejudice and discrimination; and to promote amicable relations among all racial, cultural, religious, age, gender, disabled, socio-economic and national groups within the community." 
Visit the City's Diversity Office to apply for a Diversity Mini-Grant Scholarship for 2020-2021. The applications will open August 3.