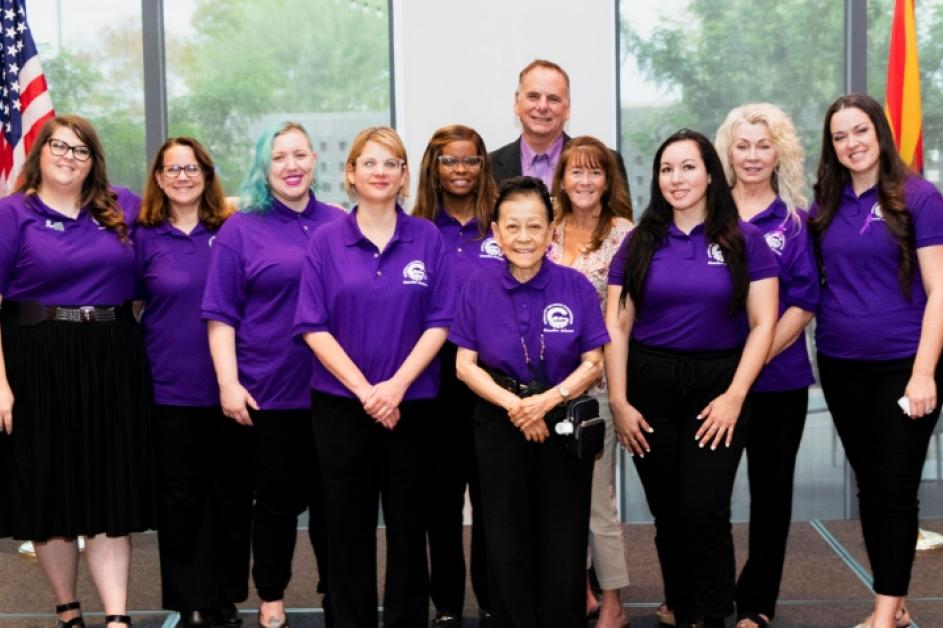 The City of Chandler Domestic Violence Commission, city officials, community members, and partners raised awareness regarding the ongoing issue of intimate partner violence in our community at a public meeting on Sept. 20.
Established in 2006, the Domestic Violence Commission brings together Chandler community members and professionals from a variety of organizations to raise awareness and educate our City residents on this issue. The Commission is made up of passionate advocates in our personal and professional lives who know the importance of breaking the silence on cycles of family violence.
The Commission's goal is to raise awareness and offer education to aid prevention. The statistics around domestic violence often feel overwhelming. In the United States, one in three women and one in four men have experienced some form of physical violence from an intimate partner. In Arizona, 42.6% of women and 33.4% of men experience physical violence, sexual violence, or stalking by an intimate partner. 
One of the statistics we highlighted this year were the 94 people who died by domestic violence in Arizona during 2021. In that group, 76 died as a result of a firearm. The loss of those lives continues to ripple through our communities. 
Domestic violence is a complex problem too often ignored. It affects everyone, regardless of background, and leaves a long-lasting impact on each layer of our community.
Together, we move forward in hope and action. Here are a few ways to support ending violence:
Break the silence. This isn't a comfortable subject to talk about. Bring it to the light.

Learn about it. Join community conversations, access free and recorded webinars from the Arizona Coalition to End Domestic and Sexual Violence and listen to advocates and survivors doing the work.

Volunteer or donate to organizations supporting families and survivors. My Sister's Place is our local domestic violence shelter in Chandler.

Teach children and youth about healthy relationships. Love Is Respect is a great organization with materials for youth, caregivers, teachers, and friends.

Attend one of the

Domestic Violence Commission meetings

, the second Wednesday of each month at 9 a.m. These are open to the public.
The only shame in domestic violence is the reality that it persists. Everyone deserves love and safety, and together we can help our neighbors and ourselves thrive.
These organizations are represented on the Domestic Violence Commission:
Arizona Coalition to End Sexual and Domestic Violence

Community Legal Services

Catholic Social Services – My Sister's Place

The Boys and Girls Club

Arizona Children's Association