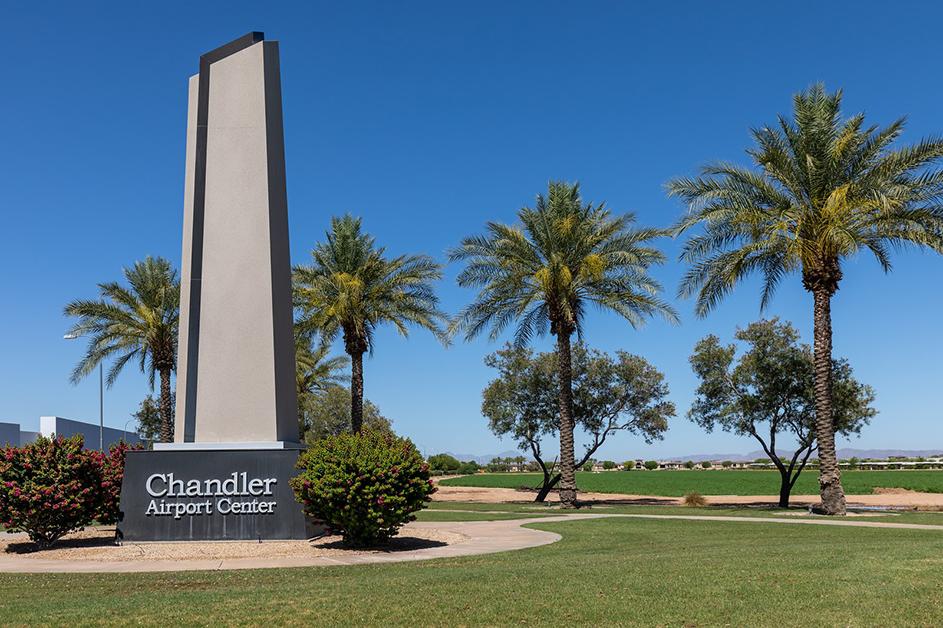 The Chandler Airpark area is a nine-square-mile employment hub that surrounds the Chandler Municipal Airport, one of the busiest general aviation airports in the U.S. The airport serves as the area's anchor and a major economic driver, generating almost $110 million in total economic activity each year.
Several nationally and internationally recognized companies have established offices in the Airpark Area in recent years, bringing thousands of new jobs to the area. Additional employment growth is anticipated as new development projects lease-up and more projects are delivered.
Facts about the Airpark Employment Corridor
The Airpark is growing faster than any other employment corridor, adding 1,310 jobs year-over-year per MAG's 2019 Employer Database. The current total estimate of jobs in the area is 10,710.
Insight Enterprises, a Fortune 500 tech company, has announced that they will relocate their corporate headquarters to a 48-acre, 295,000-square-foot site in the Airpark Area.
Chandler Municipal Airport is one of the busiest general aviation airports in the U.S. and a key asset within the Airpark Area. The City has initiated an airport master plan to provide critical guidance for existing and future development of the area.
The Airpark Area offers large, undeveloped tracts of land designated for employment uses. As the City approaches build out, preservation of this land for future employment will be critical to sustaining economic growth in Chandler.
Airpark Area Employment Brochure
Top Employers in the Airpark
The top seven employers in the Airpark are: 
Insight Enterprises — 1,500 jobs (planned)
Liberty Mutual Insurance — 1,000 jobs
Zovio (HQ) — 800 jobs
Cascade Financial Services (HQ) — 325 jobs
Crown Castle — 250 jobs
CDW — 240 jobs 
Offerpad (HQ) —  150 jobs
Connect With Our Team
The City's Economic Development Division promotes Chandler, Ariz. as a preferred business location and tourism destination. If you are considering relocating or expanding your business, please contact a member of our Economic Development team directly to discuss your project and opportunities in Chandler or simply initiate a project.