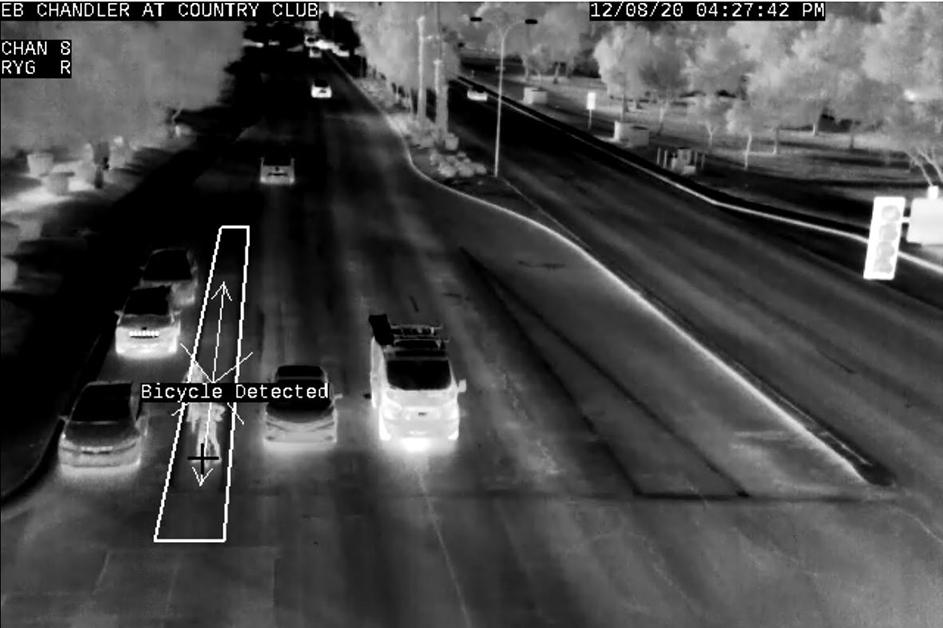 Picture the following scenario. One cyclist and one vehicle are stopped at the same intersection. Both are waiting to go the same direction. The intersection's traffic cameras automatically notice the car waiting and send out a signal to turn the light green and allow the vehicle to pass. 
At most intersections, if the cyclist were alone, he or she would need to stop and press the button at the intersection in order to receive the same traffic recognition. 
But that is changing, thanks to heat-sensitive technology found in the City's newest batch of traffic cameras; Chandler's traffic management team is working to implement this new technology in intersections citywide. 
"Since completing the first phase of this project earlier this year, 40 intersections in Chandler are now equipped with 160 thermal-detecting cameras," said Dana Alvidrez, City Transportation Engineer. "Over the next five years, we have plans to add these cameras to all of Chandler's 215 intersections."
The advanced camera system goes above and beyond the capabilities of other traffic equipment. They detect heat, rather than visible light, making them ideal for detecting objects at dusk and dawn, as well as through headlights, rain, glare or smoke. Notably, they can also reliably detect the presence of cyclists waiting to cross the road.  
"Chandler has a significant number of bicyclists," Alvidrez said. "As a City, our mission is to serve all road users. With these new cameras, cyclists will be able to stay in the bike lane rather than get off of their bicycle to push the button, and they will be able to cross more easily."
As this transition and implementation continue, cyclists may start to notice a simpler, safer flow of traffic around the City. 
Alvidrez said, when it came time for the City to replace aging traffic infrastructure, making the switch to this forward-thinking technology rather than sticking with a simpler, more traditional option just made sense. 
"This type of thermal detection technology has significantly improved over the years, making it a natural choice for Chandler as we continue to grow and improve our traffic systems," Alvidrez said.
Get to Know Chandler's Traffic Management Center
​Chandler's Traffic Management Center (TMC) is the physical hub of all communication happening to and from traffic lights around the City. Employees in the Center can monitor the timing of lights for issues or disruptions and set regular timing schedules that adjust during high-congestion hours.
Learn more about the Traffic Management Center, or connect with our Traffic Management team to report traffic problems by calling 480-782-3471.