The City's transportation system provides connections within and outside of our community and is essential for maintaining the quality of life and economic health of Chandler.
Connecting every one of the City's traffic lights is a vast fiber-optic, copper/wireless network running underneath the ground to control boxes at every intersection. At any given moment, the City's more than 655 cameras at 225-plus traffic signals are communicating through a complex system of fiber, cameras and signals — using the data to make automatic decisions about how to time the traffic flows. 
Most of your experience at an intersection happens automatically — no human intervention required. Sometimes, though, City employees need to step in. 
Traffic Management Center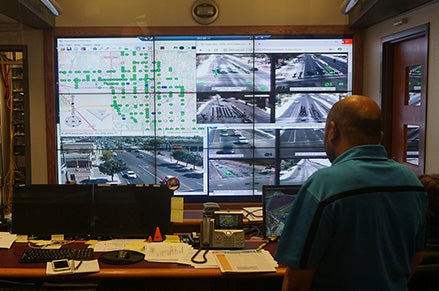 Chandler's Traffic Management Center (TMC) is the physical hub of all communication happening to and from traffic lights around the City. Including but not limited to, employees in the Center can:
Monitor the timing of lights for issues or disruptions

Set regular timing schedules that adjust during high-congestion hours

Improve unplanned congestion by altering timing at stoplights 

Assist emergency responders by changing signals at the site of an accident 

Create time schedules to prepare for special events

Verify resident complaints about traffic signal issues
The TMC has access to feeds from the cameras located at the top of every intersection. These cameras record intersection activity and detect the location of cars awaiting signal changes. 
As of now, most of these cameras detect cars using visual images. These cameras sense when a car has approached a stop light when it enters a visual sensor area that triggers the camera.
Thermal Technology Coming in 2020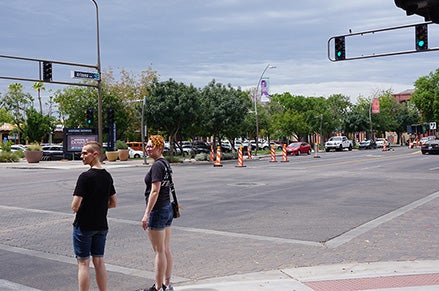 To improve upon this system, the City will add 160 advanced thermal cameras at 40 intersections in West Chandler by the summer of 2020. Thermal cameras are more accurate than visual-only models; they will use heat sensors to detect smaller objects approaching the intersection, such as cyclists looking to cross the street. 
The work being done through the TMC improves traffic congestion and enhances residents' quality of life. In addition to the work done for residents, the TMC is also equipped to share information across departments in the City.
The Future of Traffic Management
Looking to the future, the City is committed to advancing traffic management technology in Chandler and working across departments to maximize the community benefits produced from the TMC. 
Beyond the City, the future of traffic management is ripe with innovation. Chandler is looking to work with car makers such as Audi to share the timing data from traffic signals as they develop new vehicle infrastructure technologies for cars. One day, your cars may know if Chandler's signals will be red or green before you get there. 
Report Traffic Signal Issues
Connect with our Traffic Management team and report traffic signal problems by calling 480-782-3454.