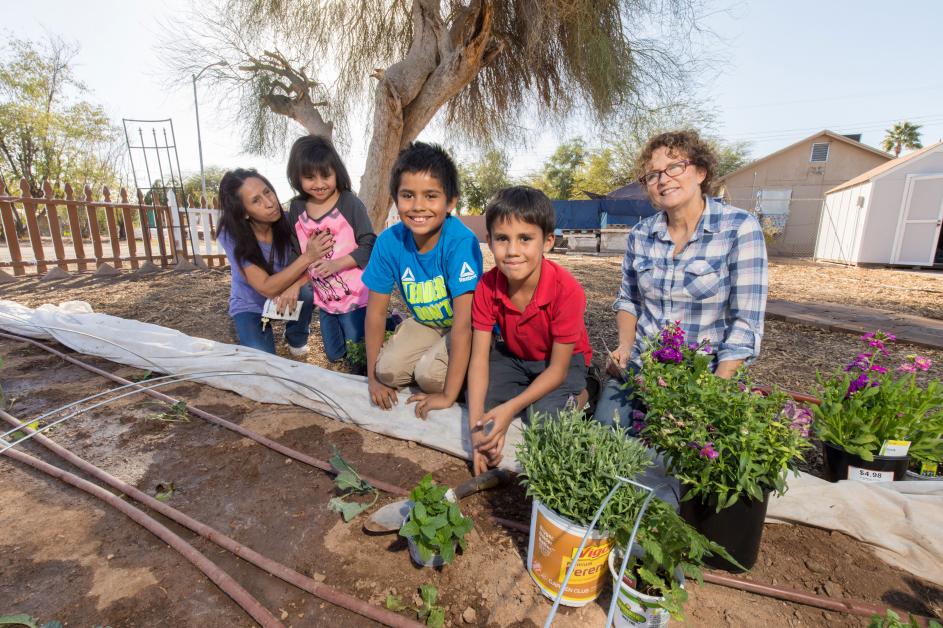 September's mildness makes just about any gardening tasks pleasant. The soil and air are warm but not overly hot. Summer is finally winding down – evenings begin to lengthen and drop in temperature. We caught up with garden expert April to discuss seasonal tips and tricks to prepare your garden for the cold season ahead. No green thumb required.
Soil Preparation
Summer in Arizona is dry, and of course, excruciatingly hot. If you've ever attempted to dig a hole in the ground during the summer months, you know it's no easy task. The ease with which one is able to grow plants is greatly influenced by characteristics of the soil. Modifying or improving the soil prior to and during the gardening season is important.
Set your garden up for success by pre-watering the soil before you do any kind of planting. Soil should absorb water readily, not form a crust upon drying, and drain sufficiently so that it does not become waterlogged. Equally as important is having a porous soil which contains more air and nutrients necessary for vigorous root growth. To aerate the soil and to allow the roots to breathe, grab a screwdriver from your garage and poke a few holes in the soil. You'll also want to lock in the moisture. An easy way to protect your soil and ensure it holds moisture is to cover it with leaves. Yes, leaves. Covering the soil with leaves locks in the water and prevents weeds from invading.
Shade
Just like you, your plants can't always be in the sun. Planning ahead is key when considering how to shade your plants. In just a month or two, your plants won't be receiving the same amount of sunlight that they are now. Identifying where the sun will be in a couple of months allows you to determine where you'll want plant. Try planting next to a wall or near larger plants that can provide the shade your plant needs. A quick and affordable trick to protecting your plants from the sun is to position a laundry basket or colander over them. These household items are a great filter for sunlight. Bonus, they also double as a way to prevent any pesky critters from hurting your plants.
Seeds
When it comes to gardening in Arizona, our climate differs so much from the rest of the country it's important to remember to select seeds that thrive in warmer climates and mild winters. What to plant?
Micro Greens
Beets
Broccoli
Carrots
Onions
Bok Choy
Swiss
Chard
Fennel
Tomato
If you can protect them from frost herbs like:
Basil
Sage
Rosemary
Mint
Thyme
Lavender
Dill
Parsley
Most of everything above can be planted now through the end of October, especially if you're starting a garden with starter plants. Visit your local nursery or seed exchange hosted by your local library to explore the many seed possibilities for this time of year.
Interested in learning more or volunteering in our Community Garden? Contact the Environmental Education Center at 480-782-2890.