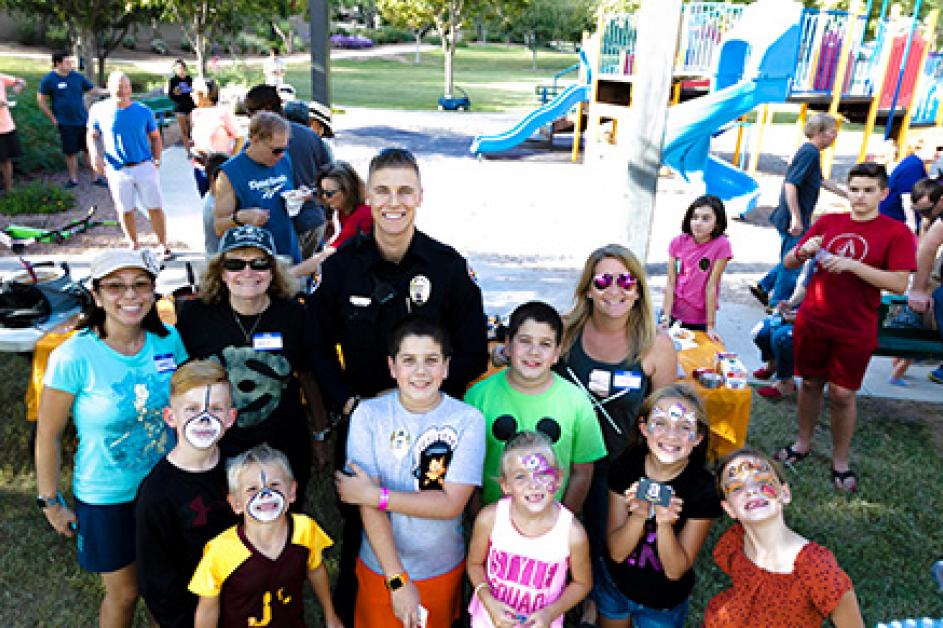 It's that time again — time to sign up to host a G.A.I.N. event in your Chandler neighborhood. G.A.I.N. (Getting Arizona Involved in Neighborhoods), is a statewide annual event supported by the Chandler Police and Neighborhood Resources departments that encourages people to become engaged with their local communities through safety and celebration. 
G.A.I.N is designed to encourage neighborhood watch programs and bring together communities throughout Chandler for a common goal — to let criminals know that citizens of Chandler are united in the fight against criminal activity. 
 
How G.A.I.N. Works
G.A.I.N. brings Chandler police officers and other City programs and resources to your parties, which helps strengthen your neighborhood's sense of community with the City. Chandler's Mayor and Councilmembers will also travel to many of the parties to meet the neighborhoods and join the fun.  
G.A.I.N events help:
Strengthen neighborhood spirit and police-community partnerships

Show support for people involved in neighborhood watch groups 

Increase awareness about crime and drug prevention 

Generate support for (and participation in) local anti-crime programs

Send a message to criminals letting them know that neighborhoods are organized and paying attention

5 Steps to Hosting Your Own Event
Ready to host your own G.A.I.N. event with the Chandler Police Department? Follow these five steps:
Rally your neighbors or HOA and form a planning committee 
Chandler G.A.I.N. events are set to take place on Saturday, Oct. 16, 2021. All events should be planned to last at least two hours and fall somewhere between 3-8 p.m. The event's theme, food, entertainment and activities are up to you, so the sooner you start planning, the better. 
 
Register your neighborhood at the Mandatory G.A.I.N. Registration and Kick-Off Event on Sept. 18, 2021
G.A.I.N. registration and kick-off will be held at the Chandler Police Department Main Station from 9-11 a.m. Saturday, Sept. 18. The Main Station is located at 250 E. Chicago St.

During our registration, the Chandler Police Department will assign you a number and conduct a drawing. Once your number is picked, you will have the opportunity to pick two police resources that you would like to stop by your party. 

These resources may include: 
- K-9 officers 
- McGruff the Crime Fighting Dog
- Mobile command centers
- Special assignment unit (SWAT) TK-4 vehicles
- Robot trucks
- Forensic vans
- DUI trucks
- Bike officers

In order to have officers attend your neighborhood block party, at least one person representing your neighborhood must attend the kick-off event.
 
Plan, prep and invite your neighborhood It's time to plan. Choose a theme and activities, and don't forget to spread the word to your neighbors about how and when to attend. Organize food and refreshments, and coordinate the proper setup and take down. 

Some examples of themes chosen by neighborhoods in the past include Fall Ball, Celebrate Halloween, Movie in the Park and Carnival, just to name a few. 

If you need to order barricades for your block party, you can set them up with the City of Chandler Traffic Engineering Division by calling 480-782-3346.
 
Host your Chandler G.A.I.N. Event 
The planning is done and the crime-fighting dogs are on their way, which means you can sit back and enjoy the fun. Don't forget to take lots of photos and save them someplace safe. Share photos on your social media accounts using the hashtag #ChandlerGAIN so we can share them on ours, too. 
 
Nominate your neighborhood for the Mayor's Neighborhood Excellence Awards
Holding a 2021 G.A.I.N. event makes your neighborhood eligible for nomination for next year's Neighborhood Excellence Awards. 

Remember those photos you saved?
In 2022, it will be time to get them out and nominate your neighborhood to participate. Two neighborhoods will be chosen (one by the mayor and one by residents) to receive awards for their commitments to community and excellence. We'll send you a reminder email when it's time to submit your nomination next year, so be prepared. Good luck, and have fun!