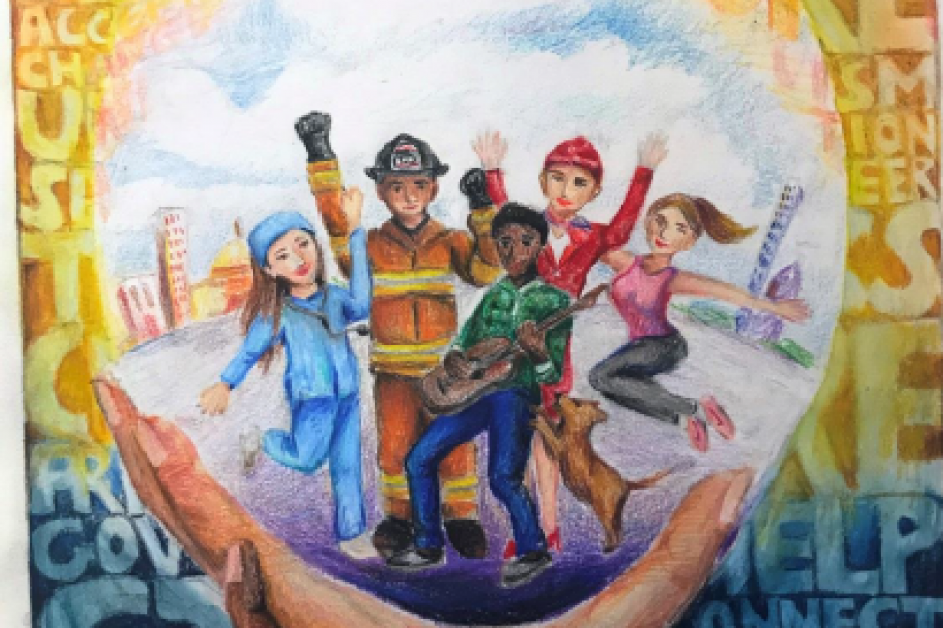 The Annual Creative Expression Competition, hosted by the City of Chandler's Diversity Office, is a unique opportunity for Chandler students to showcase their art or writing talents by submitting a personalized take on a theme centered around community diversity. 
To hear first-hand what this competition means for Chandler students, we chatted with Amanda W., a student at Hamilton High School and last year's first-place visual arts winner in the 9th–12th grade category.
 
Q: When did you first hear about the Creative Expression Competition?
My English teacher at Hamilton first told me about the competition in 9th grade. She wanted to encourage students to contribute to the writing part, but I saw there was an art category and decided to enter. I won that year, too. My 11th grade English teacher brought up the writing competition again last year, so I decided to submit again for art.
Q: How did you come up with your design?
Community means to me a place were people of all different ages, races, cultures, social classes and employment come together to build a bright, prosperous society, and that is what I wanted my artwork to portray. My design was based on the idea of a lightbulb. Just like how a lightbulb brings light into the dark, the people of a community bring light into our world. In the background, the words that are being lit by the light describe what a community consists of, and on the bottom, three hands of different colors, symbolizing diversity, are shown to represent that the strength and power of a community are in the hands of the people.
Q: Why do you think it is important to express diversity through art?
Art connects people. It is a voice that everyone around the globe uses to express their perspectives and ideas. Like the saying "a picture is worth more than a thousand words," art communicates a much larger story in a language that everybody can understand. It is important for all diverse ideas to be heard and seen because that is what makes our society unique and collaborative. 
Q: Do you have any advice for students entering this year?
The competition is a wonderful opportunity to gain experience and share your talent with the community. There is no wrong way to portray art or an idea, so don't be afraid to express yourself. I would tell students to interpret the theme as their own. There is always more than one way to represent an idea, and creativity comes from seeing things in new perspectives.
 
2020 Creative Expression Competition
This year's competition is currently accepting applications until the deadline of Friday, Nov. 29.  The theme for entries is "One World, Out of Many, We Are One."Winning submissions will be displayed at the Multicultural Festival on Saturday, Jan. 18. and the City's website. First-place winners and schools will also be recognized at a February 2020 City Council meeting. 
Learn more about judging criteria as well as how to enter from the City's Diversity Office.