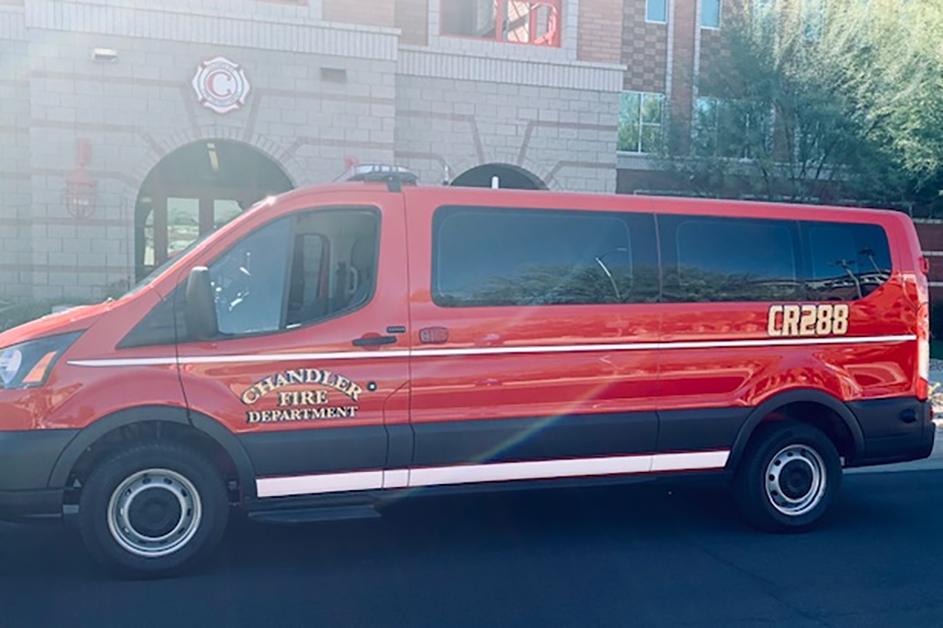 When Chandler's firefighters and police officers are called to a crisis scene — they bring help. Behind the flashing lights and sirens of an active traumatic incident, you can find a specialized team of responders providing information and comfort to witnesses and victims impacted by trauma. This team is Chandler's Crisis Response Unit (CR288). 
Housed within the Chandler Fire Department, CR288 is a 9-1-1 dispatched mobile crisis team that provides 24-hour physical, social and emotional support to community members during traumatic times. These team members are dispatched alongside other first responders to provide immediate intervention, social support and connection to resources. While paramedics tend to medical concerns or officers investigate a crime, CR288 can help keep people calm and informed of the process. 
In coordination with Domestic Violence Awareness Month, we spoke with Jessica Westmiller, Chandler's Crisis Intervention Coordinator, to share some of the invaluable services CR288 provides to community members when they are most in need.
Q: What assistance does the Crisis Response Unit provide on scene? 
A: CR288 is dispatched to scenes involving domestic violence, sexual assault, child or elder abuse or neglect, death, grief, bereavement, active medical intervention, drownings, traffic collisions, homeless support, behavioral health incidents, homicides, suicide attempts or residential house fires.
Our team has dedicated Crisis Intervention Specialists that are trained in best practice care coordination with a minimum of a Master's degree in social work, counseling or a behavioral health related field. As a public safety embedded mobile crisis team we are uniquely equipped to offer immediate assistance on scene addressing physical, mental, social, emotional or spiritual needs and to support individuals who may not know exactly how to feel or what services are available to assist them after a crisis event. 
As a unit, CR288 serves individuals of all ages and during all stages and walks of life. The main goal of CR288 is to stabilize the current situation. We identify any present needs and prevent future harm for victims, families and those who may have been a witness to the incident. The presence of a trained public safety embedded Crisis Interventionist creates a more calming environment and lessens the immediate emotional response.
CR288 has established close connections to services offered by the City of Chandler, including Chandler Victim Services and Family Advocacy Center, Chandler Neighborhood Resources, Housing and the homeless outreach navigation program, as well as a vast network of local agencies and nonprofits that can help guide people to exactly what they need. On our mobile response van we carry information on more than 300 tangible resources, from hotline numbers to shelter services, parenting skills classes to elder care services, legal service agencies to more immediate food boxes. There is information on shelter options, detox or rehab for addiction, mental and behavioral health facilities and provider agencies, and more. 
CR288 responds to anywhere between 1,700 to 2,000 emergent crisis dispatches a year and completes follow up contact with several hundred clients within the City of Chandler. 
Q: October is Domestic Violence Awareness Month. How do you help victims of domestic violence when called to a scene?
A: CR288 is automatically dispatched to scenes involving an assault that happens in Chandler. The primary goal of CR288 on scene is to provide individuals with their rights as a victim of a crime, offer victim advocacy and support and reduce the risk of potential future harm by assisting clients with an individualized safety plan.
Planning for future safety is a very important aspect of working with victims of domestic violence. We can help address emergent physical needs like food, clothing, shelter and access to immediate medical care. We assist with filling out the initial petition for an order of protection, transport folks to a new location if needed, and always refer to Chandler Victim Services and the Chandler family advocacy center for ongoing support.
Ultimately, as CR288 team members, we walk alongside individuals step-by-step through the initial on-scene phase and support victims in making the best choices possible for them in the moment and every step along the way. 
Q: Why is the work you do important to you personally?
A: Crisis Services and Victim Advocacy are services our community needs. It's crucial that we engage with people who have been victimized in the earliest moments immediately following a traumatic event in order to promote the best chances for healing and connection to natural support systems. 
I want to reassure the community that even though times have been uncertain, CR288 is still working with Police and Fire personnel on scene every day and our response never stopped due to COVID-19. We are committed to finding appropriate resources for all clients we serve. We have had to become a bit more resourceful and work together more closely with our community partners, but we still have countless positive outcomes to report. 
I also want to let people know that they don't always have to call 9-1-1 to get the help of a crisis team. Crisis services are available free of charge to all individuals in Chandler and throughout Maricopa County and at any location in the community. Know that if you are in a crisis, people care and you don't have to go through it alone.