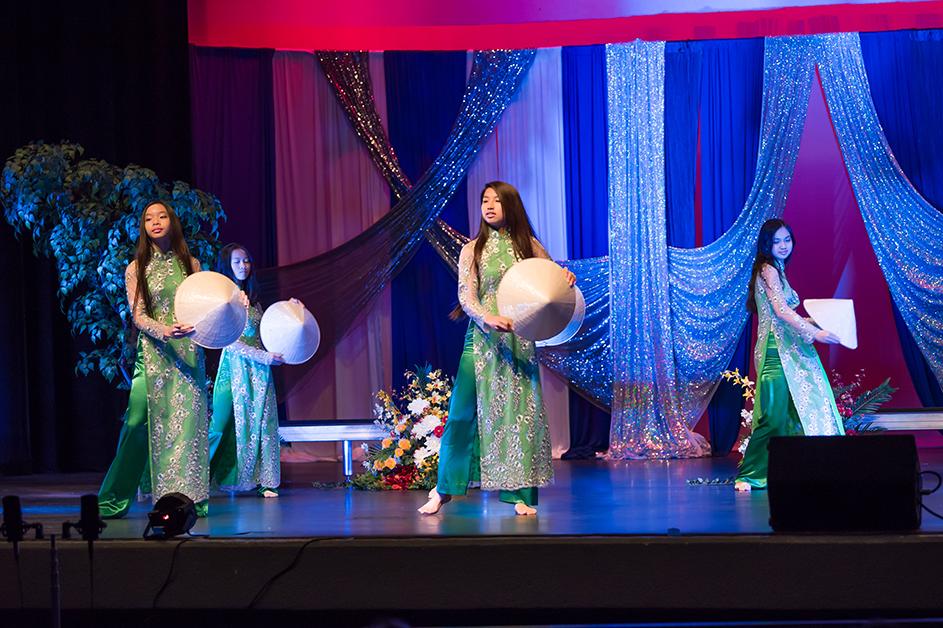 This weekend is the 25th Annual Multicultural Festival in Downtown Chandler. From noon to 6 p.m., nearly 40 performances will unfold on two stages to showcase the music and dance of a diverse group of cultures found throughout Chandler.
One of the scheduled performers, Serenity Dance Group, will showcase traditional Vietnamese dances, costumes and props on both the Main Stage and in the Asian Village. 
Serenity Dance Group was formed in 2009 after members of the local Vietnamese community wanted to have dancers for ceremonies at Buddest Temple. A few interested members began to meet and choreograph routines, but they quickly realized the group's larger potential. 
After one year of practice, the dancers felt ready to take their art further. The group began to perform at Vietnamese community events throughout the Valley, and eventually progressed into performing more broadly for Asian festivals and other events to expand their cultural impact. 
From what was once a small, temple dance group has since grown to include nearly 20 girls and boys who perform in dozens of events, ceremonies and showcases each year. 
According to Natalie N., an early member of Serenity, dancing and choreographing with the group and watching it's influence grow has inspired a new connection to her heritage and culture. 
"It's a really unique experience to be in a cultural dance group," Natalie said. "Its something not a lot of people get to experience, even if they are from a different country. Learning these dances and the history behind them has brought me closer to my community, culture and traditions."
The dancers perform with a variety of traditional Vietnamese props, which can include straw hats, parasols, ribbons, scarves, fans, lanterns and beyond. Each prop has a different symbolism, tradition or meaning when used for dance. 
For example, Diana N., a Serenity dancer and choreographer, said the outfit shown in the photo is a traditional dress worn in southern Vietnam to represent elegance and femininity. 
"The outfits and props are significant because they show how diverse and deep Vietnamese culture goes," Diana said. "The props emphasize how much our culture emphasizes the arts, and each costume represents a different part or region of Vietnam."
Dancer Crystal V. said dancing with Serenity has helped her experience the breadth of Vietnamese culture. 
"My family is from central and southern Vietnam," Crystal said. "Being in the dance group, I enjoy getting to try out costumes from other regions that represent different parts of Vietnamese culture."
Much of the group's success can be attributed to the friendships formed within the group; members talk about the joys of sharing three-to-five hours each week practicing with their best friends. 
"It's not a chore to dance with Serenity," Diana said. "We have fun because we're such a tight-knit group of friends. This is our way to de-stress on the weekend while also being productive and perfecting these dances." 
Members for the group range in age from 12 to 17, with many of the dancers graduating from the group once they leave for college. But for Diana, right now she can't see that happening. 
"After graduation, I'll probably still help choreograph dances and recruit new members," Diana said. "It's been such a huge part of my life. I've been here since 2009. I want to see this group stay alive." 
Serenity Dance Group at the Multicultural Festival 
Watch Serenity Dance Group Perform at the 25th Annual Chandler Multicultural Festival on Saturday, Jan. 18, from noon to 6 p.m. at the Downtown Stage, 178 E. Commonwealth Ave. Admission is free, and food and beverages from a variety of vendors will be available for purchase. 
New this year is an Asian Village at the Community Center and "Drinks Around the World" tasting stations. Bring your blankets and lawn chairs for an afternoon of festivities and fun for the whole family.