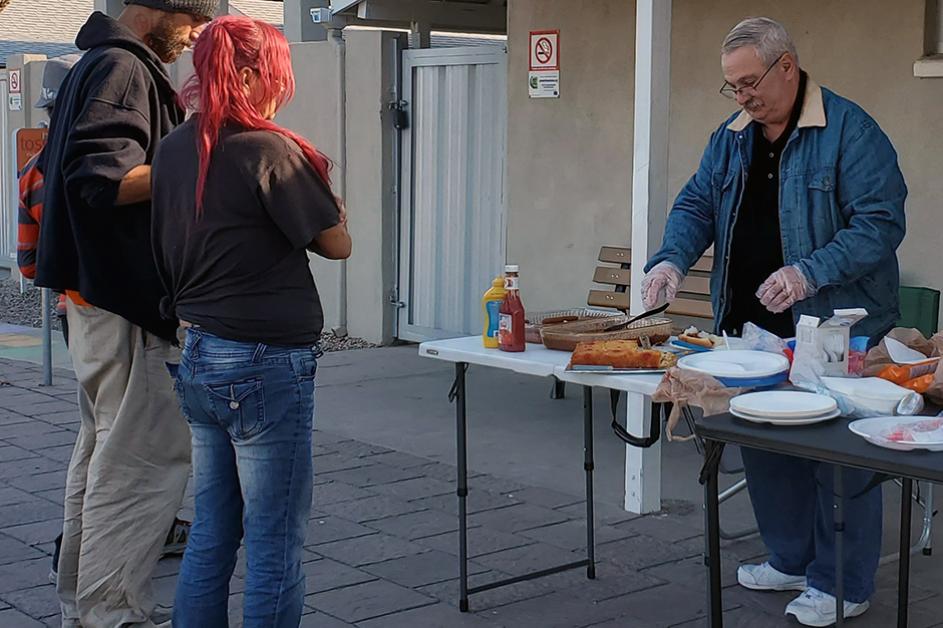 Chandler volunteer Ted Leonard has been dedicated to helping people experiencing homelessness in Chandler for more than 10 years — so much so that he drives more than an hour twice a week just to be of service. Earlier this year, he was recognized with a City of Chandler Volunteer Recognition Award as a way to honor the longevity of his service to our community. 
According to his nominator, Sharon Bouchard, Ted drives to Chandler from Maricopa to assist people experiencing homelessness find clothing, food and showers through his ministry with Compass Christian Church. 
"Ted has been a light in our community for the past 10 years," Sharon said in her nomination. "He does it with a big smile on his face and is always willing to go the extra mile."
Get to Know Homelessness Volunteer Ted Leonard 
1. Describe your work with Chandler homeless ministry. What types of volunteer work do you participate in on a regular basis?
In 2007, I retired as pastor of the Rim Christian Church in Payson and moved to Maricopa, Arizona. My wife Linda and I began attending Chandler Christian Church (now Compass Christian Church) and fell in love with it. 
I soon found out that several members were meeting regularly with the homeless at Harris and Elgin Parks in Chandler. They provided a meal, fellowship and compassion to all who came. I immediately felt called to join them, and I have been working with that loving group of volunteers ever since. 
Soon after joining the group, I sought permission from the church to use one of the church's vans to bring the homeless to our worship service. On a few occasions, there was a person experiencing homelessness who was in dire need of a shower. Our church is very large and has those facilities, so I began bringing them on Sunday mornings and allowing them to shower during the service. At first, this was awkward because the shower room is connected to a public restroom, and I ended up missing most of the service. From there I saw the great need to provide the homeless with a regular opportunity to shower. I petitioned the church for use of the van during the week to bring the homeless to our campus to shower. The church agreed to provide the van, the use of the shower facilities, towels, soap, razors, socks and underwear to the people in need.
We selected Thursdays for our service because another group from the Desert Springs Church, led by Kim Mulholand, ministers to the homeless and provides a meal at the park that morning. I arrive with the van as they are concluding their meals and take those wanting a shower to our facilities. When they are finished, I drive them back to their desired location in Downtown Chandler.
2. What motivates and enables you to do the kind of work you've done in Chandler for the past 10 years?
I have but one reason for doing what I do: my Lord and Savior Jesus. Nearly 60 years ago, I surrendered my life to Him. He changed me from the inside giving me a love for everyone regardless of their circumstances. These are my friends, and I care about them. I have shared both their joys and their sorrows.
I have experienced so many blessings as a result of helping people experiencing homelessness. Most importantly, I have had the opportunity to lead several men and women to give their lives to Jesus as their Lord and Savior. 
Through the ministry, I've had the chance to offer clothing and a sleeping bag to a man just released from prison and a prescription to a man with a bad infection he otherwise could not afford. I've seen the joy in people who were cold get a warm coat. I've seen many hungry people get a warm meal. Just the other day I saw a man who I had not seen for a while. He had been a regular to our gathering, and now he is now working a full-time job, is being promoted to assistant manager, and he has been sober for more than two years. 
3. What types of services and resources do you wish you had more of to better help people experiencing homelessness?
People experiencing homelessness need food, clothing, housing, medical and other essentials, but more than all of that, they need people who care about them. These people need others who see them as the humans they are, rather than merely a blight on society.
4. Do you work with any organizations or ministries that you'd like to recognize for their service?
Our outreach to the homeless — known as "His Heart His Hands" — is sponsored and supported by Compass Christian Church in Chandler. The leader of our homeless ministry is Doug Anderson, and we have many faithful volunteers. My helpers in the shower ministry are Maryjo Conway and Chris Okrei. I don't know what I would do without them. 
Chandler Volunteer Recognition Awards
Each year, the City of Chandler's Diversity Office and For Our City-Chandler host the Chandler Volunteer Recognition Awards in honor of the tremendous impact and contributions volunteers bring to our community.
Faith-based groups, nonprofits, schools, businesses and any other group with volunteers were encouraged to nominate individuals for one of eight Chandler Volunteer Recognition Awards. This year, Ted was honored with the Longevity Award for his decade of service to Chandler.