The Chandler Museum exhibit hall features 6-8 exhibitions each year. The schedule includes a combination of in-house produced exhibits exploring Chandler history topics and nationally traveling exhibits showcasing culture, history and art.
Bigger than Boxing: Zora Folley and the 1967 Heavyweight Title
Aug. 25, 2020 - Aug. 29, 2021

March 22, 1967, Madison Square Garden, New York City.  Two men face off in the ring for the Heavyweight Championship of the World.  In the blue corner, the Champ, Muhammad Ali.  In the red corner, the Challenger from Chandler, Arizona, Zora Folley.
What follows is a fight at the crossroads of race, religion, sport, and the politics of the 1960s. Bigger than Boxing features the stories of these two boxers, the circumstances that weighed heavy on each man, and the fight that was a turning point in both of their careers.
Once Upon a Playground
April 6- May 25, 2021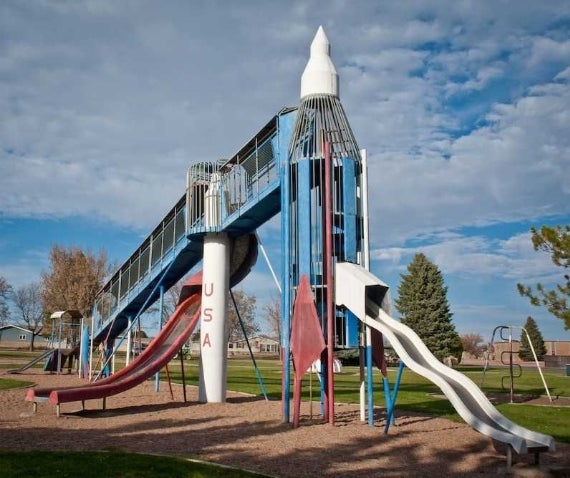 The classic metal and wood structures that have populated playgrounds for most of the twentieth century—towering metal slides, giant jungle gyms, whirling merry-go-rounds, bouncing seesaws—have become beloved artifacts of childhood. They are part of the personal histories of most Americans over the age of 30, as well as a tangible piece of the country's cultural and industrial design heritage.

Once Upon a Playground offers a visual tribute to these vanishing playgrounds of our past, celebrating their place in American culture and the collective memories of generations. The exhibition combines contemporary photographs of classic equipment, vintage images of playground scenes from the Library of Congress's collections, and images from period playground catalogs and other ephemera.

A program of ExhibitsUSA, a national division of Mid-America Arts Alliance and The National Endowment for the Arts.

Image Credit: Brenda Biondo, Miracle Playground Equipment, Burlington, CO, 2007; color photograph, 24 x 30 inches; Courtesy of the artist.