The Chandler Museum exhibit hall features 6-8 exhibitions each year. The schedule includes a combination of in-house produced exhibits exploring Chandler history topics and nationally traveling exhibits showcasing culture, history and art.
Bigger than Boxing: Zora Folley and the 1967 Heavyweight Title
Aug. 25, 2020 - Aug. 29, 2021

March 22, 1967, Madison Square Garden, New York City.  Two men face off in the ring for the Heavyweight Championship of the World.  In the blue corner, the Champ, Muhammad Ali.  In the red corner, the Challenger from Chandler, Arizona, Zora Folley.
What follows is a fight at the crossroads of race, religion, sport, and the politics of the 1960s. Bigger than Boxing features the stories of these two boxers, the circumstances that weighed heavy on each man, and the fight that was a turning point in both of their careers.
Death and Diamonds: A Holocaust Survivor's Journey from Kraków to Chandler
Feb. 3. - March 10, 2021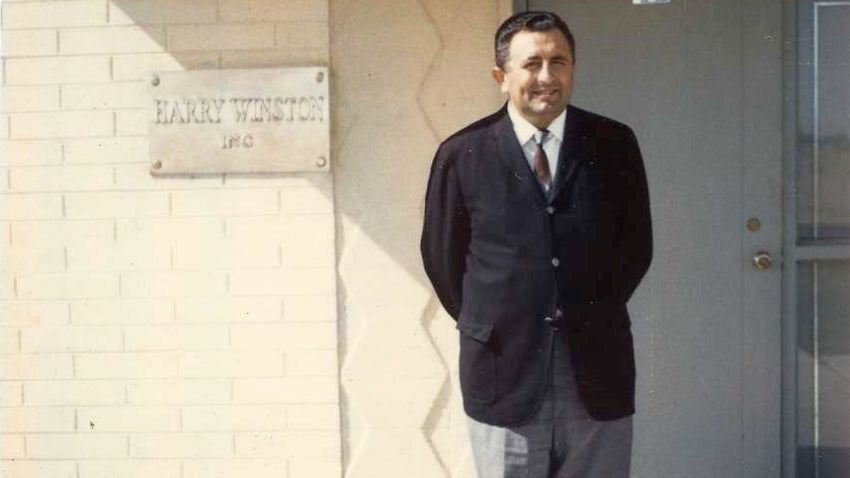 Born into a Jewish family in Poland in 1924, Samuel Soldinger found himself and his family confined to the Kraków Ghetto after the Germans invaded. While everyone around him died, Soldinger survived the Holocaust working in Oskar Schindler's factory. After the war, he learned to cut diamonds and moved to New York City. In 1962, Soldinger arrived in Chandler to manage the new Harry Winston diamond processing plant on Pecos Road. This exhibit traces the historic journey of this Chandler man.
Young at Art: A Selection of Caldecott Book Illustrations
Feb. 3 - March 10, 2021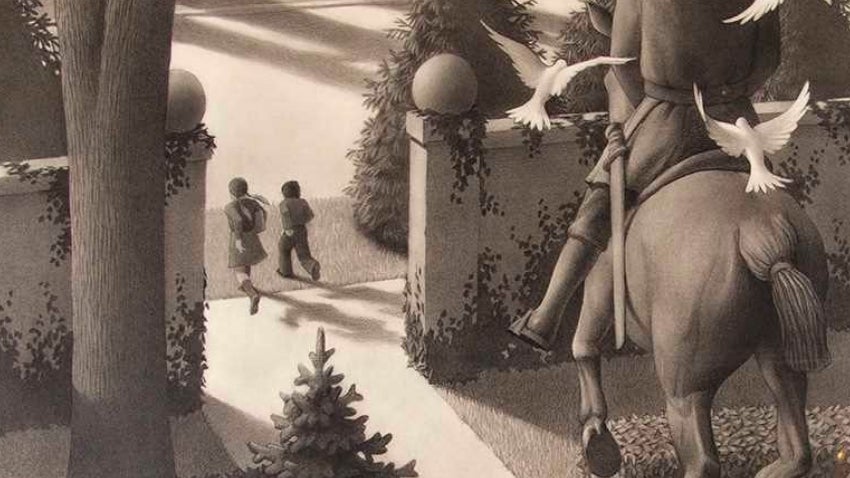 Through picture books, readers embark on visual journeys that encourage curious, imaginative, and thoughtful interactions with the world around them. Since 1938, the Association for Library Service to Children has awarded the Caldecott Medal annually for excellence in illustration in an American picture book for children. Featuring original illustrations from twenty-eight award-winning artists, this exhibition celebrates artistic classics in children's literature including works from Maurice Sendak, Barbara Cooney, and Chris Van Allsburg.
A Program of ExhibitsUSA, a national division of Mid-America Arts Alliance and The National Endowment for the Arts.
Image credit: Chris Van Allsburg (b. 1949), Jumanji, 1980; graphite, 15 1/2 x 17 inches; Courtesy of Wichita Falls Museum of Art at Midwestern State University
Once Upon a Playground
April 6- May 25, 2021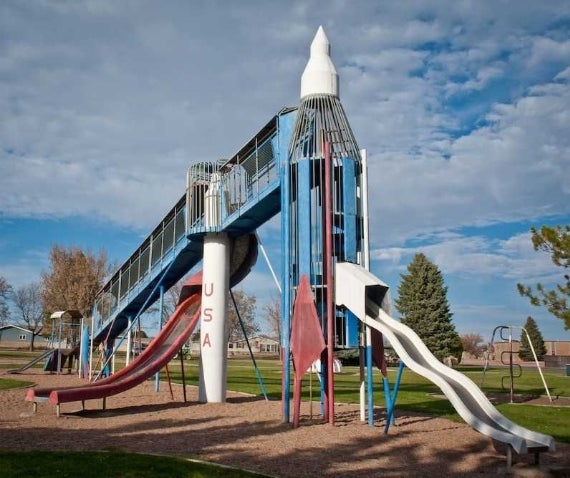 The classic metal and wood structures that have populated playgrounds for most of the twentieth century—towering metal slides, giant jungle gyms, whirling merry-go-rounds, bouncing seesaws—have become beloved artifacts of childhood. They are part of the personal histories of most Americans over the age of 30, as well as a tangible piece of the country's cultural and industrial design heritage.

Once Upon a Playground offers a visual tribute to these vanishing playgrounds of our past, celebrating their place in American culture and the collective memories of generations. The exhibition combines contemporary photographs of classic equipment, vintage images of playground scenes from the Library of Congress's collections, and images from period playground catalogs and other ephemera.

A program of ExhibitsUSA, a national division of Mid-America Arts Alliance and The National Endowment for the Arts.

Image Credit: Brenda Biondo, Miracle Playground Equipment, Burlington, CO, 2007; color photograph, 24 x 30 inches; Courtesy of the artist.