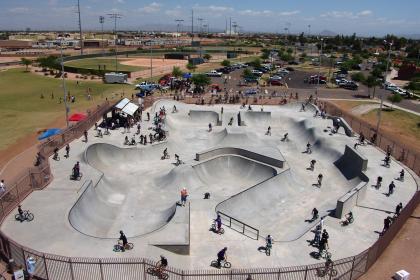 The Chandler Bike Park is located at Espee Park. It is a free, non-supervised facility for use by BMX bike riders only. The park incorporates features that allow users of varying ability levels to be challenged. This 25,000-sq.-ft. facility gives the youths of Chandler and other Arizona communities an alternative riding place to business districts, school grounds, canal banks, dirt lots and other unconventional locations. Here, they can learn their sport, develop their skills, and share a camaraderie with fellow BMX/freestyle bikers.
Maintenance Closure:  The facility is closed until 2:30 p.m. on the last Wednesday of every month for maintenance and repairs.
Summer Hours: 6:30 a.m. - 10:15 p.m. Winter Hours: 8 a.m. - 10:15 p.m.
"...it's because...cycle psychos have been pulling sick stunts at the stellar Chandler Bike Park ...
(a) pedal-pusher's paradise." 
Phoenix New Times 
"This is probably the best park I've ever ridden... and I've been around." 
AJ Anaya, Denver, Colorado 

"We all have our biases, but any sane rider would agree that this park has to be in the conversation of 'best park in the US.' Personally, it's a done deal ... Chandler has the best bike park in the entire United States ... There are no ripples, everything is perfect."
cUrbr1d3r, RedEndo.com