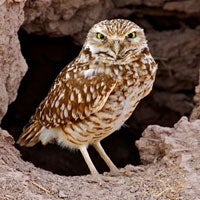 Veterans Oasis Park is considered one of the premier birding spots in the Valley. Recharge basins, riparian environments and an abundance of native vegetation draw a variety of migratory and local birds to the park. From the tiny burrowing owls to the stunning vermillion flycatchers, more than 153 species have been documented in the park.
Birding Classes
The Chandler Nature Center and Desert Rivers Audubon Society provide classes throughout the year to encourage new and experienced birders to enjoy the variety of species at Veterans Oasis Park.

More information about these classes and others can be found in Break Time or by contacting the CNC.
Free Monthly Family Birdwalks
First Saturday of every month from November-April, 8 a.m.-noon
Meet at the Red-Tailed Hawk Pavilion

Desert Rivers Audubon leads free guided bird watching tours through Veterans Oasis Park every first Saturday of the month from November-April. One-hour walks begin every 30 minutes starting at 8 a.m. Be prepared for the outdoors; sun protection, closed-toe footwear, and drinking water are recommended.
Attracting Birds to Your Yard
Do you enjoy watching wildlife? Would you like to see more wildlife in your own yard? This class will show you how to create a home landscape that is safe and inviting to birds and other wildlife. A backyard bird habitat can make your home both more enjoyable and more valuable.
Birding - Introduction
Veterans Oasis Park is considered one of the premier birding spots in the Valley, with more than 150 identified species. Join this three-part, beginner-level class and discover the where, when and how of birding in central Arizona. Topics include:
bird identification

equipment

birding hotspots
Build Your Birding Skills
Become more confident about bird identification. This three-part series will focus on bird behaviors and you will discover how to identify some of the more challenging species of birds found in Arizona.