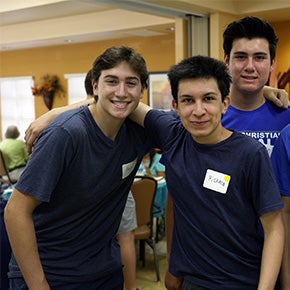 The City of Chandler and For Our City-Chandler are excited to present the annual Chandler Volunteer Recognition Awards in honor of the tremendous impact and contributions volunteers bring to our community.
Faith-based groups, nonprofits, schools, businesses and any other group with volunteers are encouraged to nominate individuals for one of eight Chandler Volunteer Recognition Awards. All volunteers with more than 1,000 hours will receive a lapel pin and certificate from the Mayor.
Additionally, volunteers with more than 100 hours will receive a certificate from the Mayor. Submit your volunteer names and number of hours to CC Cantabrana no later than Wednesday, March 1. 
All volunteers with more than 1,000 hours will get a lapel pin and certificate from the Mayor.
This nominee brings creative and unique solutions to their volunteer assignment. Please share an example of the nominees on their resourcefulness.
This nominee has volunteered for an organization for many years; they provide a commitment and dedication to their service that is awe-inspiring.
This nominee volunteers for many organizations with the goal of contributing anywhere and everywhere in any way they can.
This nominee is someone who takes on a diverse array of multiple assignments or objectives at the same time and can juggle them effectively while accomplishing all of them successfully.
This nominee is not afraid to take on any volunteer assignment no matter how "down-n-dirty" it may be. This nominee may also be called the "jack/jill-of-all-trades" in an organization.
This nominee is the most cheerful person in the place. They have the best personality, attitude, and they are always smiling. Their mere appearance brightens the area around them.
This award is for a group (in any organization) who completed a group volunteer project in Chandler.
This nominee is strictly for youth, 17 and younger. This nominee can be dedicated, positive, and hardworking or somehow stand out among others.
Looking for places to volunteer
View a list of current volunteer opportunities through For Our City-Chandler.
Volunteer programs like For Our City-Chandler have the purpose of helping coordinate service needs of the City of Chandler and non-profit organizations with the service resources of faith-based communities, employers, business groups, and others in the Chandler area. Learn more about For Our City-Chandler.