July 26, 2023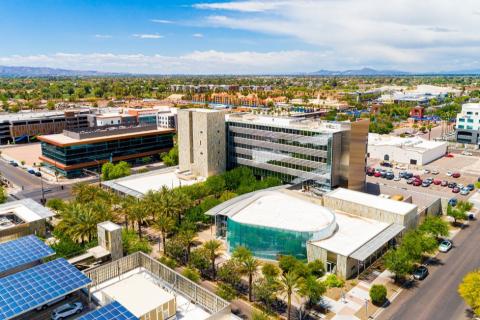 CHANDLER, Ariz. – Chandler City Council voted on July 20, 2023, to tentatively adopt the provisions of a development and purchase agreement between JEMBJACD, LLC, and the city for the sale and development of .36 acres of city-owned property located at the southwest corner of Chicago and Oregon streets. 
The developer, JEMBJACD, LLC, intends to construct a food hall featuring a minimum of six and a maximum of 12 restaurants and/or retail outlets with a level of quality that would complement other businesses operating in Downtown Chandler.
"Unless you have visited a food hall in another state similar to what we are creating, to truly grasp the essence of what we offer, you need to experience it firsthand, as it goes beyond anything found in a conventional mall food court," said JEMBJACD, LLC Partner Jeremy McClymonds. "Our establishment embodies a diverse restaurant mecca, elevating common dishes to an uncommon level of excellence."
McClymonds continued, "It will not be specifically a sports bar, but a welcoming gathering spot with wall-to-wall televisions broadcasting every sport, every day. Our venue will also be an entertainment hub, offering live music and engaging entertainment multiple times a week. It will be a captivating destination where remarkable culinary experiences, entertainment, and community engagement intersect in perfect harmony."
This development is not a conference center; however, it will have versatile event spaces to host business meetings, family gatherings, or community activities.
The final design and food hall name will be unveiled in the near future.
The terms of the agreement include the city selling the property at an appraised value of $200,000, with the right to re-purchase it at the originally purchased price if the developer does not complete the minimum improvements as outlined. The developer's minimum improvements include a single two-story building consisting of at least 15,000 square feet of mixed-use building space with a central bar area, surrounded by multiple retail and restaurant tenants. Other improvements include an outdoor upper-deck patio with seating, trash and back-of-house services at the rear of the property, and a designated area for pickup, drop-off and other temporary activities.
Construction deadlines are outlined in the development agreement and include:
submittal for land use entitlements within six months of the effective date of the agreement;

final approval of the planned area development and/or preliminary development Plan within 12 months of the agreement;

commencement of construction within either six months from the approval of civil plans or 24 months from the effective date of the agreement, whichever is sooner.
The next meeting of the Chandler City Council will be at 6 p.m. Monday, August 14, 2023. Council meetings are aired live, as well as replayed on the Chandler Channel - Cable Channel 11 and streamed online at the City of Chandler Channel. Click on Public Meeting Archive.
For official meeting results and minutes for each City Council meeting, visit the City of Chandler website.
Media contact:
Toni Smith
Marketing and Communications Manager
Office: 480-782-2701