Nov. 9, 2023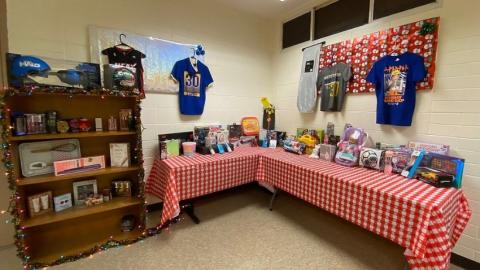 CHANDLER, Ariz. – A huge part of the holiday season is the ability to give a gift — no matter the size — to the ones you love the most. During the holidays, the city's Public Housing site bucks store turns into a place where its public housing youth may purchase gifts for their parents and siblings.
The city's Public Housing site buck store is an incentive program for housing youth to earn "site bucks" from good behavior or actively participating in the after-school program, finishing homework or being involved in community events. The earned site bucks can then be used to purchase items from the store such as school supplies, toys, clothing and more.
Each December, the youth are treated to a larger selection of items to buy gifts for their loved ones. The selected gifts are wrapped and delivered to their homes right before the holidays. The site bucks store is 100% funded by community donations. Donations are accepted year around and are always welcomed throughout the entire year.
Community members interested in purchasing an item for the holiday site bucks store, may do so by visiting Site Bucks Store. You can do one of the following options to make a donation by Thursday, Dec. 18:
Select the Amazon Wish List button and purchase an item(s) from the list;

Select the Scott Detherage Foundation button to make an online monetary donation; 

Purchase a gift/gift card of your choosing or cash donation and drop it off at the city's Housing and Redevelopment Office at 235 S. Arizona Ave., Chandler. Items in high demand include: gift sets, LED lights, speakers, headphones, older teen/adult gifts, anime gifts, cosmetic/toiletry gift sets. This location is open to deliver donations from 8 a.m. to 5 p.m. Monday

–

Friday.
For more information about the site buck store, or the city's Public Housing Youth program, contact Housing & Redevelopment Program Coordinator Heather Callis at 480-782-3244.
Media contact:
Stephanie Romero
Public Information Officer, City of Chandler
480-782-2231