Feb. 26, 2021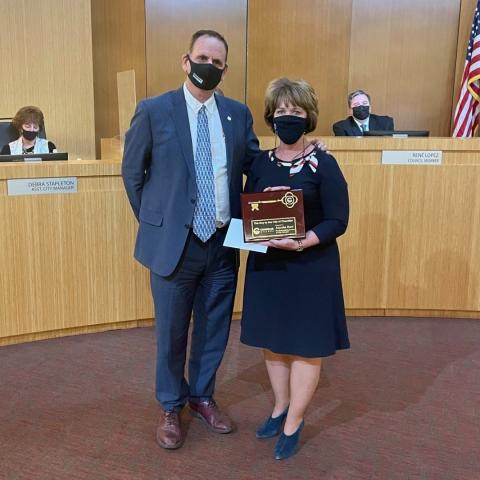 CHANDLER, Ariz. – The Chandler City Council met at 6 p.m. Thursday, Feb. 25, taking action on a total of 32 agenda items. Meeting highlights included:
Approved a resolution to amend the Citywide Fee Schedule relating to the Airport, Community Services, Development Services, Cultural Development, Fire, and Neighborhood Resources Departments or Divisions. The fees will become effective July 1, with the exception of Airport and Fire fee changes becoming effective March 1, and the Community Services' lifeguard fee changes for swim teams becoming effective Jan. 1, 2022.

Approved the introduction of an ordinance for the rezoning from Agricultural (AG-1) district to Planned Area Development (PAD) for Elux, a multi-family residential development with 162 units, located at the southeast corner of McQueen Road and Loop 202 Santan Freeway. A preliminary development plan (PDP) for site layout and building architecture and a preliminary plat approval also were included in the ordinance.

Approved a resolution to authorize and approve an agreement between the U.S. Department of the Treasury and the City of Chandler in the amount of $7,946,091.60 for the Emergency Rental Assistance Program (ERAP). As part of the resolution, Council also approved an agreement with AZCEND to administer and distribute funds in the amount of $7,671,091.60 to assist Chandler households in need due to COVID-19. The remaining $275,000 will be used to continue funding the Chandler Cares team for a second year and their work with the ERAP.

Approved a resolution to authorize and approve the reallocation of $3,000,000 of AZCares grant funds be returned to the AZCares Grant Fund, Financial Reserve for future distribution. In addition, Council approved the reallocation of the remaining $1,115,000 of the $4,115,000 AZCares funds allocated on Dec. 10, 2020, to the following organizations to serve Chandler households in need: 

$200,000 to AZCEND for rent, utility, mortgage and move-in assistance. These funds will complement the ERAP funds mentioned above.

$450,000 to the Salvation Army Chandler Corps for rent, utility, mortgage and move-in assistance, as well as a second year of weather-related respite services previously supported for one year through AZCares grant funds.

$340,000 AZCares funds to Save the Family to support Rapid Rehousing for Chandler families with children for a second year.

$125,000 AZCares grant funds to the Neighborhood Resources Department for hotel stays and client services for people experiencing homelessness.

Approved a resolution to authorize and approve a third amendment to an intergovernmental agreement with Maricopa County to provide temporary housing at hotel rooms for at-risk individuals and families experiencing homelessness. This amendment extends the agreement to March 31, 2021 and adds additional funding of $79,580 for a new total amount not to exceed $238,740.

Approved an agreement extension with United Fibers, LLC, for the processing and marketing of recyclable materials, in an amount not to exceed $1,200,000, for a one-year term starting March 1, through Feb. 28, 2022. More than 20,935 tons of recycled material was collected from Chandler residents' homes in 2020 and delivered to United Fibers, LLC, for processing. This amendment will increase the processing fee to $85 per ton.

Approved the utilization of Omnia Partners contracts with TDIndustries, Inc., Johnson Controls, Inc., Daikin Applied Americas, Inc., and Trane U.S. Inc., for the purchase of HVAC equipment, installation and services, in an amount not to exceed $815,000. Building and Facilities will use this agreement for emergency repairs, and or replacement of packaged units, chillers, boilers and other related HVAC equipment located in City facilities. This will reduce the premature failure of the equipment during peak demand and provide optimum energy efficiency.

Approved an agreement (second amendment) with Western States Fire Protection Co., for fire protection services, increasing the spending limit by $720,000, for a revised amount not to exceed $920,000. This amendment will provide for the purchase and installation of replacement fire monitoring equipment and the repair of the alarm communications network for the Pecos Surface Water Treatment Plant. The plant's administration building houses a number of City staff and is the central hub of all water treatment and production throughout Chandler.

Approved an agreement with Environmental Systems Research, Inc. (ESRI) for an enterprise license for Geographic Information System (GIS) software in the amount of $480,000 for a three-year period beginning March 12, through March 11, 2024. The software allows staff, residents and business partners the ability to view data in a spatial manner related to its physical location within the City.

Awarded a construction manager at risk contract to McCarthy Building Companies, Inc., for the Water Reclamation Facility Improvements, in an amount not to exceed $5,842,737. Both the Ocotillo Water Reclamation Facility and the Airport Water Reclamation Facility are in need of rehabilitation due to aging infrastructure.

Approved a professional services agreement with Gavan & Barker, Inc., for the Snedigar Sportsplex West Restroom replacement project design services, in an amount not to exceed $36,690.07.

Recommended the following Series 12, restaurant liquor licenses be approved by the State Department of Liquor Licenses and Control for:

Rosati's Pizza, located at 1050 E. Ray Road, Suite 2;

Good Time Charli's, located at 6045 W. Chandler Blvd., Suite 7;

Paletas Betty, located at 96 W. Boston St.

Recommended a Series 4, state wholesalers liquor license be approved by the State Department of Liquor Licenses and Control for Nuwave Beverage, located at 3225 N. Arizona Ave., Suite 10.

Recommended a Series 6, bar liquor license be approved by the State Department of Liquor Licenses and Control for Billiards & Bowling, located at 3455 W. Frye Road, Suite 2.
The meeting kicked off with a final update of the Citizen Bond Exploratory Committee's recommendations presented by former Chandler Mayor and Committee Chairman Boyd Dunn. This item will be further discussed at an upcoming Council Work Study Session.
During the meeting, Mayor Hartke presented City Manager Marsha Reed with a Key to the City in honor of her retirement on March 4. Reed joined Team Chandler in April 2013 as an assistant city manager before her appointment to city manager in April 2016. Prior to Chandler, she spent more than 20 years with the city of Lubbock, Texas.
During a Study Session held on Monday, Feb. 22, Neighborhood Resources Director Leah Powell presented an update on COVID-19 Human Services funding and her staff's efforts to assist Chandler residents most impacted by the pandemic.
The next meeting of the Chandler City Council will be at 6 p.m. Monday, March 22. Council meetings are aired live, as well as replayed on the Chandler Channel - Cable Channel 11 (CenturyLink Channel 8502), streamed online at Chandler Video and on YouTube.
 
Note: These are not official meeting minutes of the City Council but rather a brief recap of the Council's actions provided as a courtesy of the Chandler Communications and Public Affairs Department.
The City Clerk's office posts official meeting results the morning following Council meetings. For a complete list of actions taken, visit Chandler Meetings and Agendas. Throughout the agenda, items are posted in red to signify any changes made at the meeting, and who voted no, or abstained.
For past City Council meeting minutes, visit chandleraz.gov or contact the City Clerk's Office at 480-782-2180. For any other information, contact the Communications and Public Affairs Department at 480-782-2000.

Media contact:
Stephanie Romero
Public Information Officer
480-782-2231