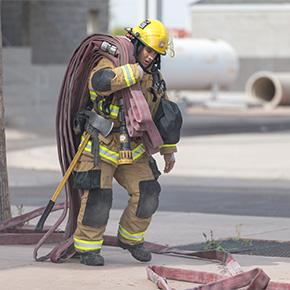 The CPAT is a nationally recognized physical ability test adopted by the Chandler Fire Department to inform the hiring process. The CPAT assesses a candidate's ability to perform the physical activities necessary of a firefighter. These include:
The stair climb

The hose pull

The equipment carry

The ladder raise

Forcible entry

The search

The rescue

The ceiling pull
Prospective firefighters must perform exemplary in the following categories: aerobics, endurance, strength, and flexibility. The CPAT is a pass/fail exam.
Note: The Chandler Fire Department is not currently offering the CPAT exam. Candidates are encouraged to take the CPAT or prep-courses at other organizations like Maricopa Community Colleges or the National Testing Network.
CPAT Preparation Program
Occasionally the Chandler Fire Department offers a free CPAT orientation course prior to conducting its Invite Only CPAT. Participants must be at least 18 years of age.  The orientation includes:
Review of basic exercise concepts

CPAT physical training tips and the opportunity to practice test

CPAT video that demonstrates each physical activity task

Review of the physical and mental aspects of firefighting