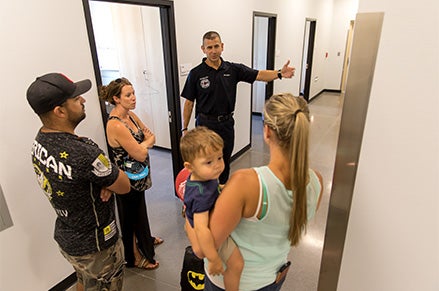 The Chandler Fire Department offers tours of the fire stations, training center and headquarters. If you are interested in touring one of our facilities we will be happy to schedule it as time permits.
We also will schedule truck and equipment displays at community events, as schedules permit. Some of the most popular events are G.A.I.N. night, fall and spring festivals, HOA community events, and other special events throughout the communities. 
Fire Station & Facility Tours
Tours are available at any of the 11 Chandler Fire stations, Fire Headquarters and the Public Safety Training Center. Station tours last approximately 30 minutes and include viewing a fire engine, firefighter equipment and gear, emergency medical equipment and station living quarters. At the conclusion of the tour, visitors are provided with a short presentation on fire safety.
If you want to learn about the history of the CFD, see an old fire truck and a steel beam from 9/11 twin towers then you'll want to visit Fire Headquarters.
Fire Truck Appearances
Fire trucks may be scheduled with a minimum of two weeks advanced notice.
Station Tour Notes
Groups should be no larger than 25 persons (this includes both children and adults). There must be one adult chaperone for every five children. Children under the age of 3 may be frightened by the noises and surroundings and typically do not understand the tour information. Therefore, the majority of children must be older than 4 years old.
 

Please understand your tour may be interrupted. Fire stations must remain "in-service" during the tour and firefighters may need to respond to emergencies. If this occurs, it will be necessary for the tour to end and your group to exit the station. If your tour is interrupted by an emergency call, you will be given the opportunity to reschedule your visit.
 

If firefighters are not at the station when your group arrives, they are likely out on an emergency call. We recommend you wait 15 minutes for their return. If they do not return in that time, it will be necessary to reschedule your tour.



You are welcome to tour a fire station but may not hold parties at the facility. Please do not bring food or drinks into the fire station during tours. Carpooling to the fire station is highly encouraged due to limited parking. Street parking is not available at many fire stations.