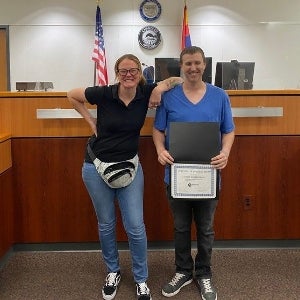 Meet James
Did you know that Chandler has a new Support Court program? This program assists individuals experiencing homelessness charged with misdemeanor crimes to engage in services to end their homelessness. 
James was cited for trespassing because he was sleeping on private property. He was directed to work with our Support Court Navigator Ashley and was told he must obtain an ID and employment.
With our ChangeUp funds, Ashley was able to purchase a state ID with James and he was able to obtain employment and has graduated from Support Court.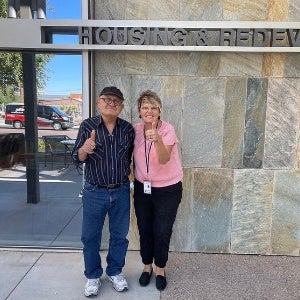 A Fresh Start
The City's community navigators came across an elderly gentleman living out of his car. Our navigators approached him to see how they could help. He shared with the navigators that his rent was recently raised by $400 a month and he could no longer afford it.
Upon their first meeting, they noticed he was extremely hard of hearing, but he told them he was trying to save up enough money to purchase a hearing aid. With the support of the City's ChangeUp program, our navigators were able to match his funds and help purchase this much-needed medical device. The new hearing aid has allowed him to regain independence and begin his journey back toward stability. Since then, we're delighted to share that the client has moved into an affordable housing unit.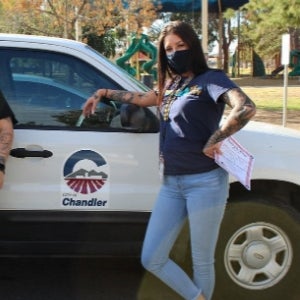 Meet Randi: Community Navigator
Randi, one of Chandler's community navigators, came into contact with a woman who was living at a bus stop. The woman had difficulties controlling her bladder and let Randi know that she suffered from Huntington's disease. Randi quickly worked with the woman to get her connected with health care services, but the hospital couldn't meet her intermediate care needs.
Randi worked with a local nonprofit, Fans Across America Charitable Foundation to get diapers and clean clothes for the woman so she could live more comfortably while they sorted everything out. She also helped the woman apply to get her birth certificate and paid for it using ChangeUp funds.
Determined to help get the woman off the streets, Randi started searching for the woman's family members. Finally she was able to get in touch with the woman's brother and found out that he had been looking for her. Now the woman is enrolled in our hotel program and her brother came out to stay with her and take care of her while Randi helps her find permanent living arrangements.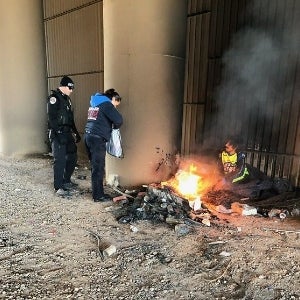 Making a Difference
Imagine living on the streets for more than 15 years. For one of our Chandler clients, that was his reality. He had been living in an encampment near the railroad tracks when our Community Navigator, Misty, first met him. After earning his trust, Misty helped him get into detox through a partnership with Community Bridges AZ.
Misty then used ChangeUp funds to help him to get a new driver's license so he could apply for housing. Now he is housed through a program called Bonus Project where he receives Case Management to help him make his new apartment feel like a home.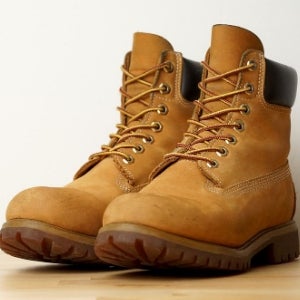 New Job, New Shoes
A local Chandler nonprofit had a client in the I-HELP program who had been couch surfing with his family. He was desperate to work, but struggled with literacy. In the past he leaned on family members and friends to help him fill out applications, but no longer had their help.
One of our navigators was able to enroll him in a vocational program, but due to COVID the program never started. In spite of all these barriers, the client finally found a factory job, walked to meet with them in person, and was hired on the spot.
His excitement was short lived because he was scheduled to start the next day, but had no work boots. When he shared this information with his navigator, they told him about the ChangeUp program. Our navigator took him to the store the same day to buy work boots for his new job.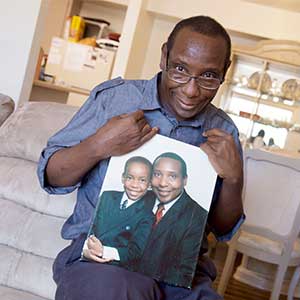 Meet Owen
Owen moved to Arizona to help improve his son's asthma. Although his son's health improved, Owen got extremely sick with Valley Fever and soon he and his son found themselves homeless. He kept his son in school and worked hard to acquire housing. He now has an apartment and his son is enrolled in college.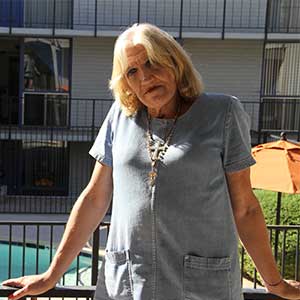 Meet Jenny
Jenny met Trevor, a City of Chandler professional outreach worker, in January. After Trevor earned her trust, Jenny agreed to seek services. Her past struggles included substance abuse, medical complications and a violent home invasion. Today, Jenny is sober and recently moved into an apartment with the help of a rental subsidy and supportive services. She is making friends with her neighbors and looking forward to making her new apartment a home.