The 6th annual Trashion Fashion Show is a fun, creative competition in which participants use their imagination and design skills to create and exhibit a wearable garment using materials that otherwise would be discarded. Each year, the participants think "outside the recycle bin" to transform trash or recyclables into inventive and stylish fashion.
This year we are excited to work with The Makery Studio at the Downtown Library. The Makery offers a well-equipped audio/visual production studio that provides an ideal setting for creating and editing videos and photographs designers can use to submit their entries for this year's contest.
The Makery also has sewing machines and will be offering classes and workspace for contestants to create their designs.
Sign up for updates on The Makery's schedule and reminders about the Trashion Fashion Show.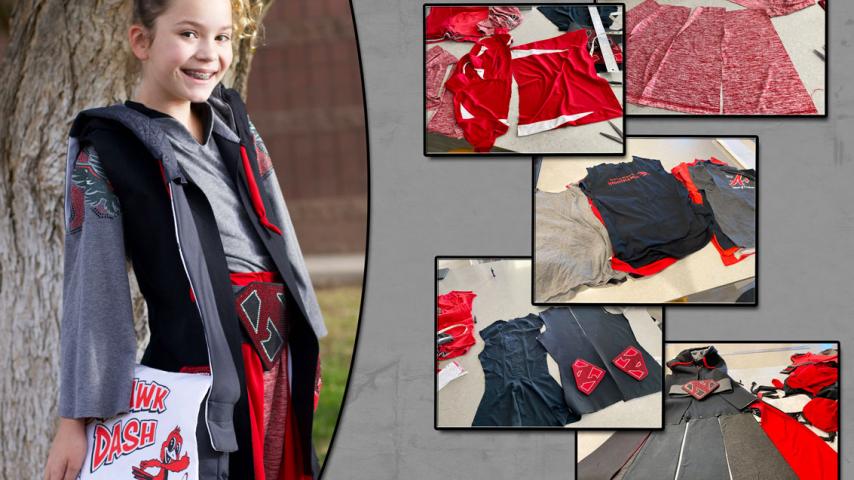 And the winner is....
The winner of the 6th annual Trashion Fashion Show is Afrodita! Afrodita's design is like nothing we've ever seen before. Her creativity showed through the unique wings, belt, bag and cape made from recycled materials.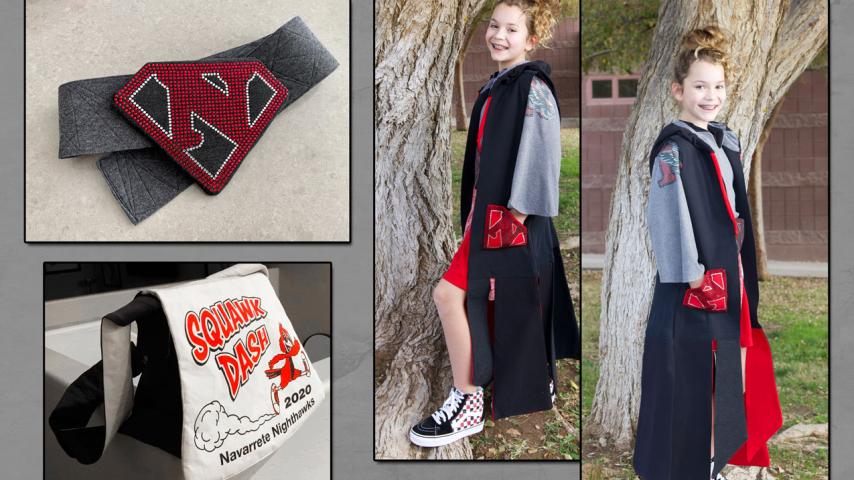 Environmental Fact
Did you know it takes 700 gallons of water to make one new t-shirt? Donating is one way to recycle fabrics. Other ways to recycle fabrics are using them to make tote bags, make art, donate to an animal shelter or create new garments.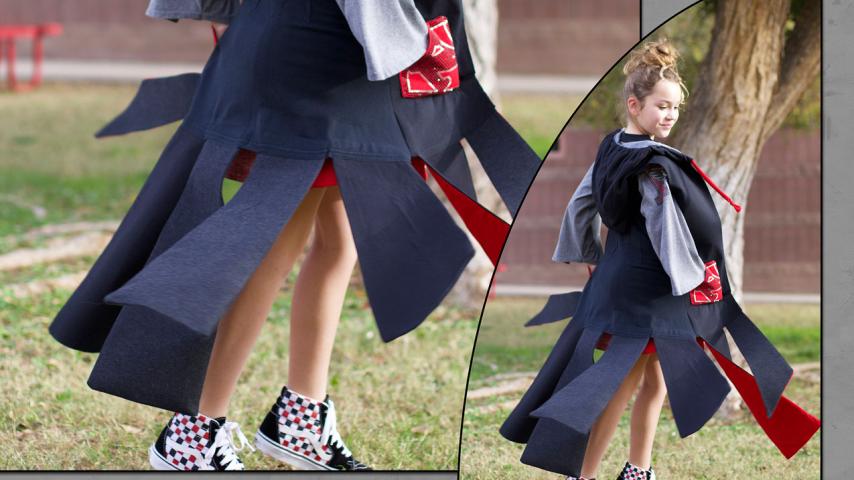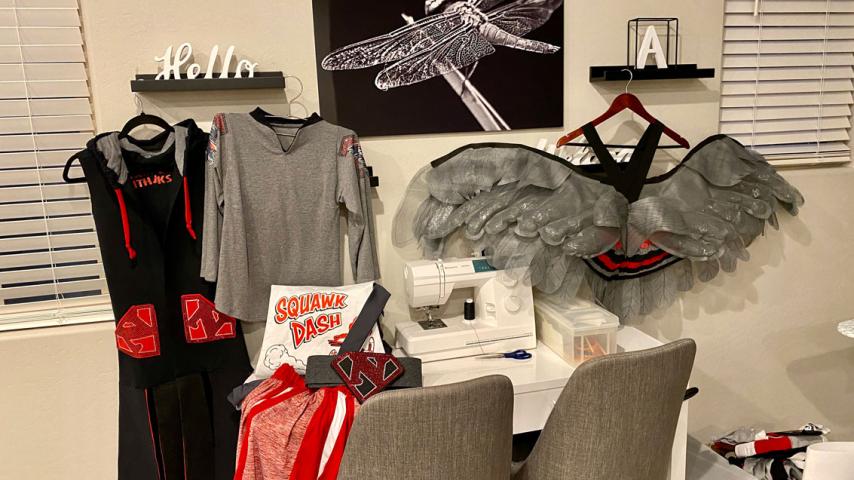 5th Annual TFS Community Choice Award Nominees
Last Year's Winner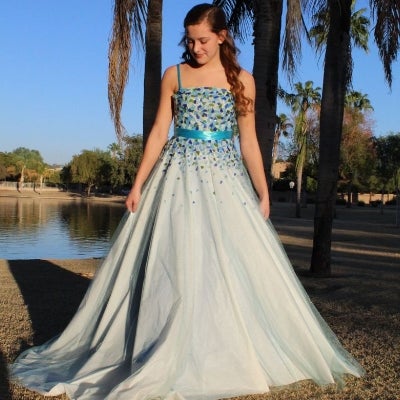 Sea Glass and Shower Curtain
Designer: Abigail R.  
Model: Annabelle R.
Materials: Glass bottles and cups (sea glass), plastic shower curtain, plastic IKEA bags, old fabric – ribbon, tulle
Environmental Fact: Only 33 % of glass waste is recycled in the US. Recycled glass can be substituted for 95% of raw material. It can also reduce carbon dioxide emissions and extends the life of plant equipment and saves energy. Food and beverage glass bottles and jars can be recycled in Chandler's recycling program.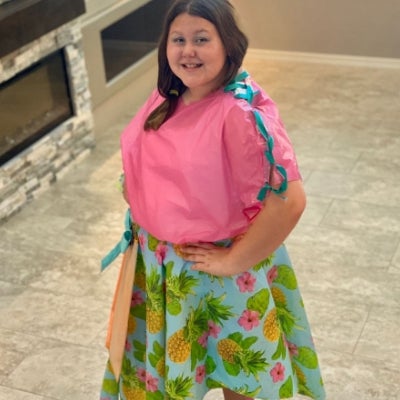 Party Supplies
Designers: Jessica W. & Claire M.
Model: Claire M.
Materials: Party supplies – plastic tablecloth, lei, and ribbon, agricultural mesh bag
Environmental Fact: If not disposed of properly, plastic, such as bags and tablecloths can harm animals or be scattered about in landscaping or nature. Reuse these items or bag and tie and place in the trash.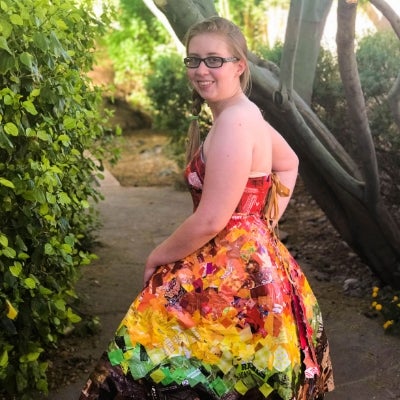 Voter Guides and Magazines
Designer & Model: Kacey L.
Materials: Voter guides and magazines
Environmental Fact: 2.5 million tons of magazines are landfilled. Recycle magazine and other mail in your curbside blue bin or reduce by subscribing to the digital version of your favorite magazines. 
Contest Rules and Information
Video Entry
This year's Trashion Fashion Show will require the submission of a written online form and the submission of a self-recorded video and several photos for judges to review your creation. The submitted videos and photos will be reviewed by judges and used to produce a competition video that will feature all entries and announce the winners in each category.
Video Documentation of Design and Manufacturing Process 
Use a cell phone to record video footage that includes the contestant or team providing the following elements while looking into the camera:
Shooting Your Video
Times listed are for recommended maximum for that section of the overall video which should be approximately three minutes in length.
Say your name(s), then spell out your first and last name on camera. Say your age category, your school and grade

(if applicable)

. (30 seconds) 
Describe your design concept and the inspiration behind it. You can also show examples of drawings or photos that influenced your design. Describe and show the materials you plan to use in the garment and accessories. (1 minute)
Share an environmental fact that connects the fashion, material used, and the material's effect on the environment. (1 minute)
Document your work by recording multiple short segments showing your manufacturing process. (30-45 seconds)
Record your model saying their name and spelling out their first and last name on camera. Next, record the model wearing your creation. This can be recorded indoors or outdoors in a visually appealing setting and your creation should be shown from several angles and at varying distances. (30-45 seconds)
Editing Your Video
You must combine all of your videos into one continuous recording of up to three (3) minutes in length

For copyright reasons, DO NOT USE ANY MUSIC in your videos.

If possible, save your video as an .mp4 or .mov file and include your last name in the title of the video.
Photos
Take 3-5 color photos (.jpg or .png) of your model wearing your creation.

Cell phone photos or digital camera photos are acceptable with higher resolution preferred.
Submitting Your Video and Photos
When you submit your registration through the online form you will be asked to upload your final video and photo files.
Usage Rights
By entering this competition and submitting a video and photos you will be giving the City of Chandler permission to use your likeness and submitted videos and photos featuring your creation.

After registration is submitted, photo releases for models and designers will be sent via email to the designer and MUST be completed and returned by the deadline provided in the email.

The City of Chandler will use portions of all videos submitted to create 2021 Trashion Fashion Show videos that will be posted on the City's website, social media channels and Government Cable Channel.
Trashion Show Categories
Best in Show – Ages 10-13
Best in Show – Ages 14-17
Best in Show – Ages 18 and older
Community Choice (voted on by individuals through the City's social media accounts)  
Participant Criteria
Participants must be residents of Arizona or attend an Arizona school.

Only the first 25 entries for each age category will be accepted.

Teams must enter under the age category of their oldest member.

Prizes awarded to winners of each category.
Garments
Garments must be made from at least 75% recyclable or reused material that would otherwise be thrown away or recycled. Examples can include, but are not limited to paper, magazines, plastic containers, plastic bags, cardboard, packaging, steel, tin or aluminum etc. Try to use items you already own, borrow from a neighbor, family member or business that was intended for the trash.
If you need base fabric to adhere items, please do not purchase something new. You may acquire such items from a garage sale, thrift shop or borrow from a friend or family member, etc.
All garments must be clean, safe to wear and touch. No sharp edges, no glass, no liquids or food waste.
You may sew; stitch, tape, hot glue, rivet, staple or do whatever it takes to hold pieces together.
Designers may not take items out of recycling or trash cans, other than their own, nor remove items from the Recycling-Solid Waste Collection Center or recycling centers.
Due to the all-ages education event, we require designs to be modest and not too revealing.
All garments must be accompanied by a Garment Description and Environmental Fact that connects the fashion, material used, and the material's effect on the environment and how it can be reduced, recycled or reused by the public.
You may find some assistance in developing this portion of the entry at these and other sites:
Keep America Beautiful

United States Environmental Protection Agency

City of Chandler Trash and Recycling

Earth 9-1-1
Examples of Garment Description and Environmental Fact
Megan
Megan is

wearing a dress made from plastic packaging, newspapers, grocery bags and aluminum juice pouches.

Capri Sun drink pouches are shiny, colorful and almost indestructible. They cannot be placed in regular recycling containers but can be collected and mailed to Terracycle. This company collects hard to recycle waste and converts it into a wide variety of products and materials. They pay you to send them waste.  Source: Terracycle 
Pamela
Pamela is

wearing a dress designed and made by

Robin Hatcher.

The dress is made out of 25 straws, 50 bottle caps, 35 soda caps, and reused

fabric.

More than 500 million disposable plastic straws are used in the United States every day and would fill more than 127 school buses daily, or more than 46,400 school bus loads per year just with straws. Source: Earth 9-1-1
Anna
Anna's

dress is made from 15-20 plastic Target shopping bags, about a half a yard of bubble wrap, and also some scrap material from a homemade Halloween costume. The plastic bags have been fused together with an iron to make the material. Plastic bags are not biodegradable, they actually

photodegrade,

meaning plastic bags break down into small bits that contaminate the soil and waterways.

Approximately 1 billion seabirds and mammals die each year by ingesting plastics.
Accessories
Only accessories made by the designers that are made from 75% recycled or reused materials can be worn on the runway, but are not required.

Shoes are optional, but if worn they do not have to be made by the designer, nor made or recycled or reusable materials.
Models
Designers can select their own model or present the outfit themselves. Models do not need any prior experience but should be ready to best represent the fashion in a stylish and appealing presentation.

Photo releases for models and designers will be sent via email to the designer and MUST be completed and returned by the deadline provided in the release.
Judging
Entries will be evaluated on creativity, design, craftsmanship and on their environmental message that connects the fashion, material used, and the material's effect on the environment.

The Community Choice award is a vote by the public and no specific criteria is used.
Prizes
Prizes will be awarded to winners of each category.

The City will feature the winning designs at the State of the City address in mid-February, then displayed at City facilities throughout the year.