The Chandler Park and Ride is located at the southwest corner of Germann and Hamilton Street.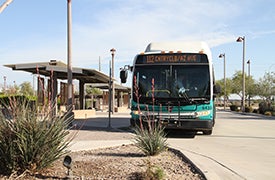 This facility has 460 parking spaces, and many are covered. The Local Route 112 and Express bus service to downtown Phoenix originates from this facility. The Route 112 bus connects to the light rail in Mesa. This facility enables people to carpool or vanpool.

The Paseo Trail is nearby, enabling commuters who live nearby to walk or ride their bike. Secure bike racks are located at the Park and Ride.