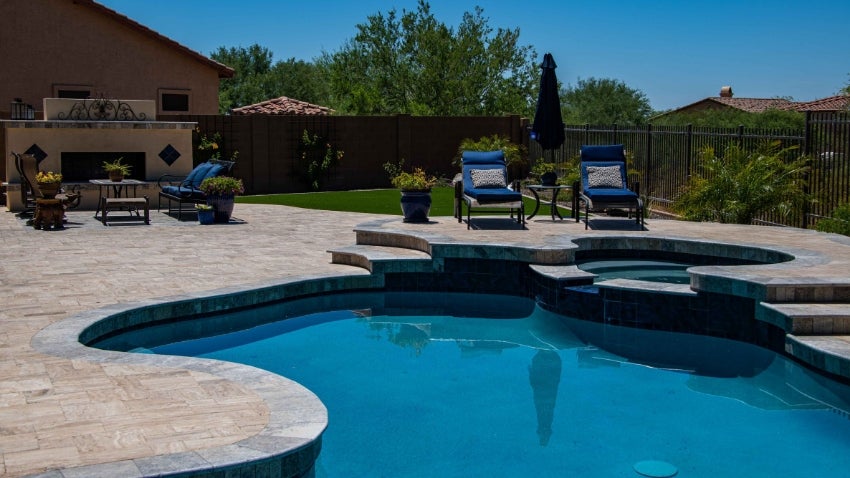 Pools are a great way to stay cool in the summer heat but are also one of the greatest outdoor water users. Make sure your pool is maintained and cared for on a regular basis year-round. Before you dive in, it's important to ensure your pool is running as efficiently as possible.
Conserve water in your pool by: 
Finding and fixing leaks

.

A stuck fill valve running continuously can easily waste up to 30,000 gallons of water in a month. Regularly check your pool pump and plumbing for leaks.

It is estimated that 30 percent of all pools have a leak, and many go undetected.

Properly maintaining your pool water and chemical levels.
Minimizing pool splash-out by keeping the pool level half-way from the top of the skimmer box.
Keeping your filter clean and only backwash when really needed.

The average backwash uses between 250 to 1,000 gallons of water.  Only backwash until the water runs clear. Use an in-line "skimmer sock" leaf trap to reduce backwash frequency.

Avoiding draining your pool. There are portable water restoration systems that can eliminate the need to drain the pool. Contact your local pool professional for more information on this service.

Reusing pool water

when backwashing or draining is required. Do not add chemicals for up to 72 hours, then flush the water onto salt-tolerant plants, such as Oleanders, Bermuda Grass, etc.