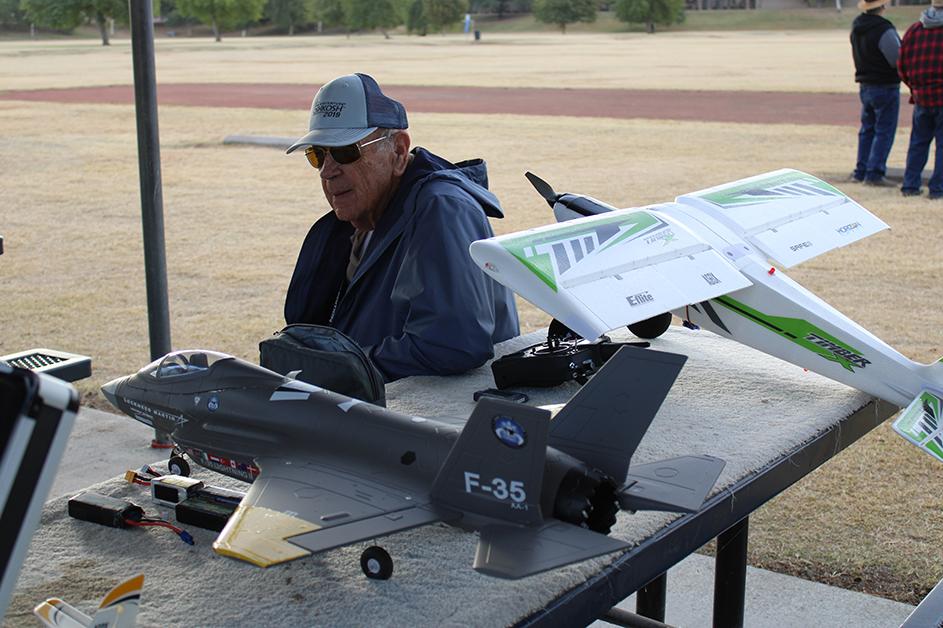 It's 8 a.m. on a chilly weekday morning in November at Chandler's Thude Park and the full swing of rush hour is buzzing in the distance. 
In the park, neighbors are out for morning runs and walking their dogs. For most people, the day is just getting started. But for a group of retirees — many of them veterans — a day of flying remote-controlled planes is well underway. 
They call themselves TPF, or the Thude Park Flyers. Since the remote control park at Thude was designed in 2004, the group has been meeting almost every morning to chat and fly their model airplanes on Chandler's only City-run RC field. 
Depending on the day, the group can consist of anywhere from five to a dozen flyers. They get to the field early and stay for several hours, day after day. 
Many of the men in the group, like Milo Milosevich, served time in one of the branches of the U.S. Military. 
A long-time fan of aviation, Milo loved RC flying prior to serving as a fighter pilot in the United States Airforce.
"I got started in this hobby when I was about 15 years old. I actually worked at a hobby shop through high school and college in Tucson at the University of Arizona," Milosevich said. "After college, I went into the United States Air Force as a pilot trainee and went to flight school at what they now call Phoenix-Mesa Gateway, but then it was called Williams Air Force Base."
After his years of service and time in the reserves, Milosevich worked as a commercial pilot and eventually retired as a captain from Delta Air Lines. After retiring, he missed flying and returned to his love of model planes. 
"These aircraft have these things called electric-ducted fans. They are high-performance airplanes, which can give you the thrill of flying a jet fighter again like in the Air Force," Milosevich said.
The group gets together to fly, but they mostly chat. Stories overheard at the park could be about anything: traffic, planes, stories of the past, new discoveries. 
"Imagine a circle where old women get together to knit blankets and share stories," said Chuck Waddell, a retired U.S. veteran and regular at the park. "That's basically what this is, except we fly planes."
The group will tell you meeting up to fly planes is about the camaraderie — and because they usually don't have anything better to do. 
"Three of us here are widowers," said Bob Hightower, a veteran himself and a regular flyer. "We sit around the house and get bored, so we come out here."
To the group, the RC field at Thude is more than just a place to fly planes; it is a home away from home. They do their best to treat it as such. On this particular morning, Jerry Mackey, a regular in the TFP, brought a grabber to pick up trash left by people who misuse the park overnight. 
"We do what we can to make the space better," Mackey said. 
And they don't just pick up trash; they handle small renovations and regular upkeep simply because they want to. If you visit the Thude RC field, you'll notice a painted bulletin board and carpet over the tabletops "to keep small parts from falling through." 
Last year, City Council approved a $20,000 budget amendment to add benches and a shade structure for the RC flyers to utilize during the heat of the day. On summer days, the upgrades have helped the group stay cool and fly out longer. 
"The upgrades have been great. Now if only we could get a longer runway," Waddell said.
Celebrating Chandler's Veterans 
The City of Chandler honors and gives thanks to its veterans, on this Veteran's Day and every day. In honor of all those who have served in the United States Armed Forces, a memorial was constructed in the City's Veteran's Oasis Park. To all our veterans: thank you for your service.