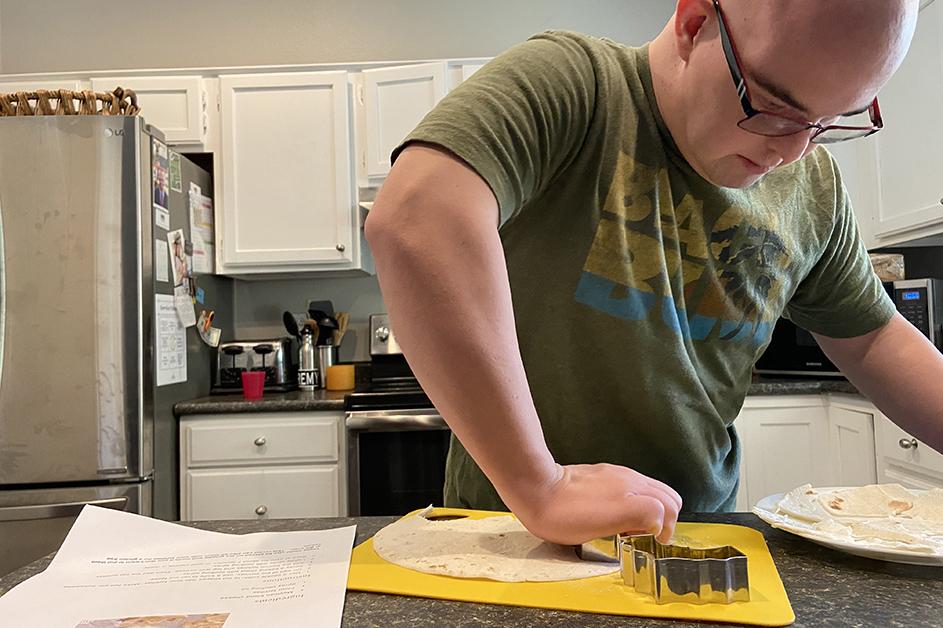 In a pre-COVID world, participants in Chandler's Therapeutic Recreation (TR) program enjoyed a full schedule of in-person retreats for individuals with disabilities, packed with enriching activities ranging from sports to cooking to games and social hours. 
As times have changed, Chandler Recreation has risen to the challenge to adapt this well-loved program to continue to offer the valuable creative and social activities that participants and their families need and enjoy.  
"There is always something happening in our area," said Collette Prather, a certified therapeutic recreation specialist. "When COVID hit … our team adapted, our staff rallied and found that there are many ways to bring joy and meaning to daily living — even while social distancing and without a recreation center."
Throughout the summer and into the fall, the TR program has launched new options to keep participants engaged and active, including virtual programs and free Rec & Go Bags. The Rec & Go bags are filled with fun day-to-day activities, doable from home. Activities include crafts, baking recipes, scavenger hunts and more. Each bag features something different to keep activities fresh as stay-at-home guidelines continue. 
Debbie Jacobus, a parent of a participant in the TR program, said the activity bags have given her daughter a creative outlet and something to do to curb the lockdown boredom. 
"[She] has taken over our guest room for her 'office/project' room," Jacobus said. "These bags have helped unleash her creativity, encouraging her to paint and decorate, and most importantly kept her off her phone. I don't know what I would do without this support and these activities."
During these unprecedented times, the TR program's largest priority is keeping up with the psychosocial needs of its participants and preventing social isolation. Continuing to offer participants a routine by pivoting regular programming has been vital to keeping the program successful. 
TR participants are now able to access free virtual classes for cooking, fitness, social time and other leisure activities via Zoom. 
For example, Table Talk Tuesdays invited participants to pull up a chair and tune in for candid conversations. Moderated by a TR staff member, attendees had the opportunity to catch up on current events, discuss their favorite things and topics affecting their day-to-day lives. 
"Zoom has given me something to look forward to every day," said longtime TR participant Matt Peterson. "I love it."
Prather's team plans to continue offering Zoom classes alongside a modified list of in-person classes this winter. While the format of programs may change, the personalized approach to participants remains the same. Programs will continue to encourage individuals from the special needs community to seek involvement in recreational activities as a means to increasing life skills and friendship networks.
"Chandler Recreation's top priority before, during and after the pandemic is the overall health and wellness of the people who live here," Prather said, who also shared the TR program serves more than 300 individuals in Chandler and neighboring cities annually. "We're committed to making sure that each member of our community knows that they are not alone during this time."
Making Recreation Participation Accessible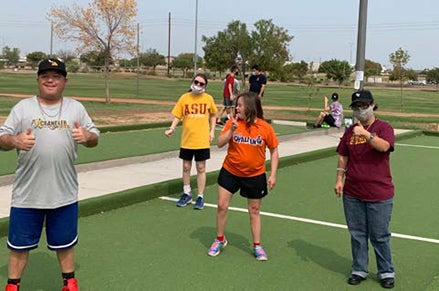 Chandler's TR program offers valuable options for participants to be a part of a like-minded community. However, Prather emphasized Chandler Recreation's commitment to including people with developmental disabilities into any program offered division-wide.
"We don't want people to feel as if they can't participate in a program outside of TR because they feel as if they won't fit in or will be turned away," Prather said. "If somebody comes to us saying they or their child wants to play a sport or join an activity, we can work with them to find out what we need to do to make that program accessible and inclusive. If we don't have the particular program available, I can personally put them in contact with other resources in the community or connect them to other programs that may have what they are looking for." 
Connect with Collette Prather about finding accessible programs within Chandler Recreation and beyond.
Mayor's Committee for People with Disabilities Scholarship Program
Access to knowledge is our passion.
When it comes to educational and career aspirations for individuals with disabilities, we don't want anything to stand in the way. We believe every person, regardless of ability, has valuable strengths, infinite capacity to learn and the potential to make important contributions to our community. That's why we're proud to offer the Mayor's Committee for People with Disabilities Scholarship Program to assist individuals in making the most of their talents as they pursue education and promising careers.
Recipients of a scholarship will receive a one-time award of up to $500. Awards are paid directly to the institution or towards the purchase of supplies. Scholarships are awarded based on the strength of the applicant's academic background, leadership skills and demonstrated passion.Details and Apply