Meet the Host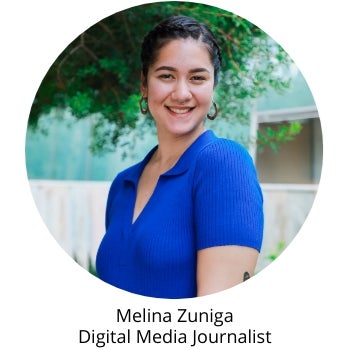 Melina is an Arizona native that works in the Communications and Public Affairs Department at the City. She is passionate about connecting with the community to tell their stories and as a self-considered creative type, she enjoys the challenge of finding a different point of view for her storytelling.
She has been told that she looks like a young Catherine Zeta-Jones and that if she had a nightly radio show she'd be known as "Midnight Mami" but you can be the judge of that.
Meet the Contributors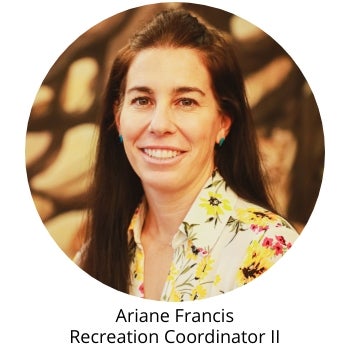 From scoring goals to growing marigolds, this ball of fire loves showing the community how to discover and explore the natural world around us. A former Arizona State University women's soccer player, Ariane has learned to integrate her love for recreation into educational opportunities where the community can explore environmental issues, engage in problem-solving, and take action to improve the environment and themselves.
She loves eating with an ocean view alongside her husband and equally as energetic daughter.
Segment Contributor: Come Wander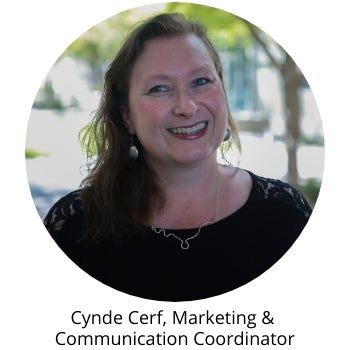 Cynde Cerf, MMC, has served the community as a public relations, marketing and communications professional for more than 20 years. She has had the honor of serving in a senior staff role for two Arizona nonprofits and currently oversees the marketing and communications team at Chandler Center for the Arts.
She has a passion for making her community a better place through volunteerism and advocacy. She loves travel, live music, reading, art and museums. She happily spreads the word about the arts and culture experiences that are happening in the city she calls home. #dreamjob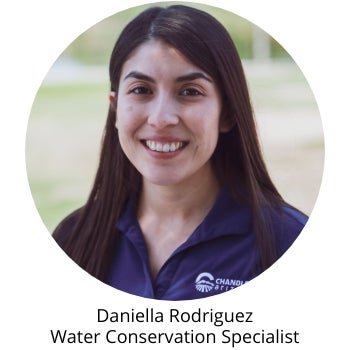 At just five feet, Daniella will get your attention with cool and interesting facts about the natural world, and leave you wanting more. While earning her Conservation Biology degree she trekked across the U.S., catching lizards with a fishing pole and harvesting ant nests from Hemlock Forest on the East Coast, all in the name of studying climate change.
She also claims to be a taco and salsa expert since she grew up in Yuma, AZ just thirty minutes from the border. When she's not eating tacos, she's hiking, traveling, bird watching or building jigsaw puzzles (1000 pieces). Much of her time is also preoccupied by two very demanding cats named Dot and Bagheera. She is an avid advocate for lifelong learning and passionate about teaching others to care for the environment.
Her work as a Water Conservation Specialist allows her to help customers detect water leaks and address the public's concerns relating to one of our most important natural resources, water.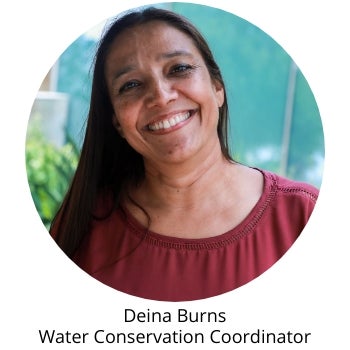 A California transplant, Deina has adapted desert roots much like the plants she promotes to conserve water in your landscape.
Deina is known as the ultimate water detective with more than 20 years of experience in the Public Works & Utilities Department. She has been helping Chandler residents save millions of gallons of water year after year. She's got the tools to identify leaky pipes and broken sprinkler heads and has accumulated interesting stories along the way.
Deina loves to spend time with her family and is a proud mom of two handsome sons. She enjoys spending her free time in the outdoors hiking all over Arizona, but most especially Sedona. When not hiking, you can usually find her swimming, paddle boarding or boating. Water is her passion both at work and in her free time.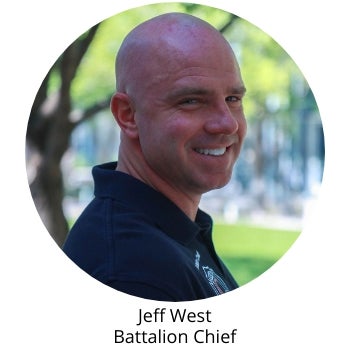 Jeff West has been a Chandler Firefighter since 1998. He has filled many roles since he began working at the Chandler Fire Department such as training captain, ladder truck operator and now a Battalion Chief of Fire Department Operations.
When not spending time at the fire station, he enjoys spending time with his family, traveling and the beach. He loves his profession and says the people he works within the City make him forget it's a job.
Segment Contributor: #WaterYouDoing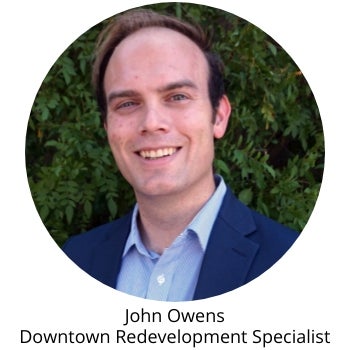 John Owens is the Downtown Redevelopment Specialist for the City. His role includes working with Downtown Businesses to better deliver city services, helping the city build a dynamic urban environment that welcomes private investment and continuing the redevelopment of the area.
John is active in the community – he serves as the President of Swift Youth Foundation, is a 2021 International Downtown Association Emerging Leader Fellow, and was a 2017 member of Valley Leadership Advance. He is an avid sports fan, a downtown evangelist, and a determined adventurer. He's played semi-professional tackle football in Tel Aviv, Israel and spent a month traversing the United States solo, among other adventures.
Segment Contributor: The Downtown Sound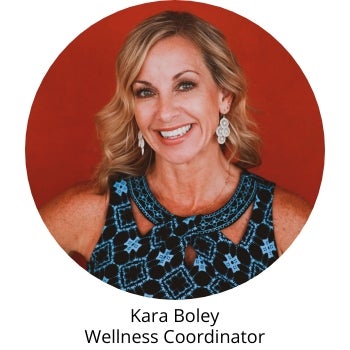 Wellness Coordinator, Extraordinaire! Cycle-instructor, heavy things lifter, sand volleyballer, burpee-lover, sweat-er. Kara has a crazy love for fitness (and food, she really loves food). Her mission in this world is to inspire others. She will push you to do your best and then go a little further.
When Kara's not teaching fitness, nutrition, or stress management classes, you can find her playing sand volleyball, hiking, running, or relaxing by a pool. She loves high fives, dark chocolate and Coke Zero (and her love language is small gifts … so now you know.)
Segment Contributor: Crushin' It with Kara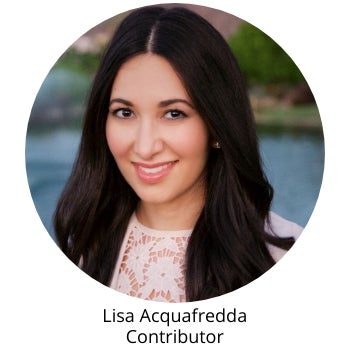 Lisa Acquafredda is an award-winning storyteller, on-camera personality, and has worked with the City of Chandler for the last 15 years. She promotes Chandler Recreation, highlighting incredible happenings and programs the city has to offer. She is also the creator of StayClassyTV, which specializes in promoting brands to the public through digital content creation, powerful marketing strategies and public relations.
Lisa wears a number of professional hats, with 15+ years showcasing brands on television, print and online: City of Chandler, Seventeen Magazine, Newsweek Magazine, 3TV, ABC-15, NBC-12, SheKnows.com & Phoenix Fashion Week. She was even the fashion host/stylist each week on Sonoran Living and the 2018 STYLIST OF THE YEAR for Phoenix Fashion Week! Lisa is a certified teacher with StayClassyTV Academy and shares her knowledge with students to become successful. Off-air, Lisa enjoys exploring hidden gems in Chandler, organizing, traveling, shopping and being a mom to her baby Ariana.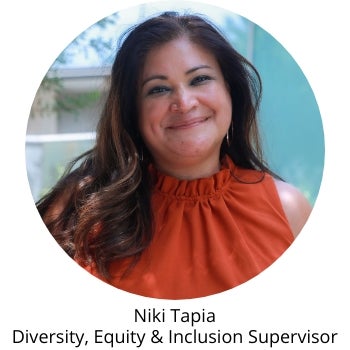 Niki is the Diversity, Equity & Inclusion Supervisor at the City of Chandler. She has a passion for working collaboratively with cultural organizations, places of worship, local businesses, nonprofits and social service leaders to present diverse, inclusive and equal programs in our City. 
She is an Arizona native and has worked at the City for more than 20 years, in the area of diversity programs, education, events and community outreach since 2001. 
Segment Contributor: Unapologetically Diverse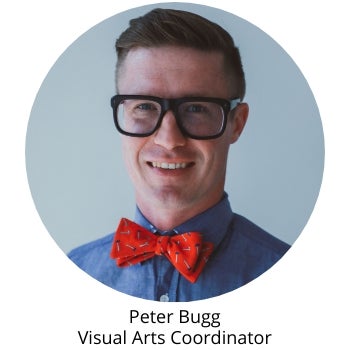 Peter Bugg moved to Arizona from Wisconsin in 2006 to earn his MFA in photography at ASU and has never left. As visual arts coordinator for the City, he is in charge of Chandler's public collection, Vision Gallery, Chandler Center for the Arts Gallery, and oversees Vision Kids art classes.
He loves working with artists and different departments to make the City more interesting and beautiful, and in his free time, he enjoys yoga, backpacking throughout the southwest, and traveling with his wife.
Segment Contributor: Chandler's Got Art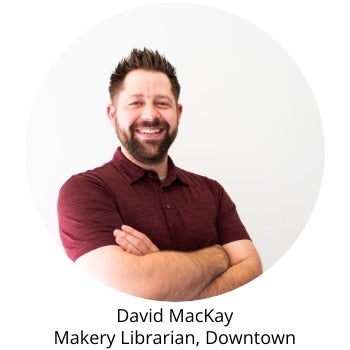 David MacKay has worked at the Downtown Chandler Public Library for over 20 years. Currently working as the Makery Librarian, his role includes maintaining the Makery Lab and Studio to provide access to the public with various audio and video equipment as well as a 3D printer and laser cutter.
When not at the library, David enjoys spending time with his loving wife and building and playing LEGO with his son. His background started in architecture, which led to 3D design, but in the end the world of libraries and information technology was the goal. His true passion in and outside of the library will always be all things technology.
Segment Contributor: What's Happening at the Library