Nov. 2, 2023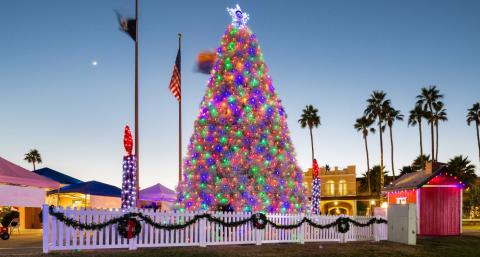 CHANDLER, Ariz. – Twinkling lights, tumbleweeds and traditions combine during the lighting of Chandler's iconic Tumbleweed Tree and the Parade of Lights on Saturday, Dec. 2. The 67th Annual Tumbleweed Tree Lighting & Parade of Lights starts at 4:30 p.m. in Downtown Chandler. Admission is free.
The Tumbleweed Tree will be the backdrop for local performances from 4:40-6 p.m. in Dr. A.J. Chandler Park, 3 S. Arizona Ave. The parade will begin at 6:45 p.m., followed by the tree lighting at approximately 8 p.m.
Event attendees are encouraged to arrive in Downtown Chandler early and have dinner, shop for gifts and enjoy the whimsical Sugarland holiday decorations. 
Five facts about the Tumbleweed Tree:
•    The tree is 35 feet tall and 20 feet wide.
•    It is made of nearly 1,000 tumbleweeds covered in 65 pounds of glistening glitter, 25 gallons of white paint and 20 gallons of fire retardant. 
•    The tree is wrapped in more than 1,200 LED lights.
•    Known nationwide, the iconic tree has been featured on several Travel Channel shows and Saturday Night Live. 
•    The Tumbleweed Tree debuted in 1957, making 2023 its 67th year. 
Holiday festivities
Holiday revelers of all ages are invited to this free community event. Come early to get a free photo with the jolly old elf at Santa's House (closed from 6:30-8 p.m. when Santa is in the parade). Write a letter to Santa and then take photos with your family and friends at the Tumbleweed Tree and Sugarland displays. The kids will also love the inflatable bounce area with activities and games that will require the purchase of tickets. Tickets will be sold at the event and proceeds will fund Downtown Chandler improvements. 
The Chandler Fire Department invites event attendees to bring new, unwrapped toys to help "Stuff the Fire Truck" during the tree lighting and parade. The fire truck will be located on Arizona Place on the east side of Arizona Avenue, in front of the Alexander Building, from 4:30-9 p.m.   
How to watch the parade
The Parade of Lights begins at 6:45 p.m. and will travel north on Arizona Avenue between City Hall and Chandler High School (Frye Road to Chandler Boulevard).
Get into the holiday spirit while watching festive floats adorned with thousands of lights, dancers, community groups and Santa's arrival on a shiny red firetruck. 
Bring chairs and blankets and arrive early to get a spot along the route. 
Where to park
Guests attending the event are encouraged to arrive early to find parking. There are multiple locations with free parking, including five parking garages on the east and west side of Arizona Avenue, including the largest garage, Oregon Street. Visit Tumbleweed Tree Lighting Ceremony to view a list and map of available parking garages and surface lots.  
Several streets in the downtown area will be closed to traffic. The scheduled closures are as follows:
2-8:30 p.m. Arizona Avenue closed between Frye and Pecos roads
6-8:30 p.m. Frye Road restricted from Washington to California streets
2-10 p.m. Arizona Avenue closed between Frye Road and Chandler Boulevard
6-9 p.m. Chandler Boulevard restricted from Delaware California streets
6-9:30 p.m. Arizona Avenue closed between Galveston Street and Chandler Boulevard
Several other smaller streets in the downtown area also will be closed or restricted during the festivities. 
The 67th Annual Tumbleweed Tree Lighting & Parade of Lights is presented in partnership with Chandler Lions Club, WM, Semper Fi Heating & Cooling, Salt River Project, Downtown Chandler Community Partnership and Raising Cane's. 
For more information showing street closures and general event information, including a complete entertainment schedule, visit Tumbleweed Tree. 
The Tumbleweed Tree will be on display through Jan. 7, 2024.
Media Contact:
Toni Smith
Marketing and Communications Manager
480-782-2701