A signature gathering space for individuals with disabilities, our Therapeutic Recreation program offers the most innovative play experiences truly inclusive for all.
We're committed to providing life-enhancing recreation opportunities that welcome children and their families of all abilities. Each season we offer a variety of activities and events that encourage participants to engage in activities that promote socialization, skill development, and physical activity. From arts and crafts to cooking to social outings there's always fun for everyone. Find daily inspiration by exploring our Break Time Recreation Guide, Newsletter or Calendar of Events.
Chandler Fun Run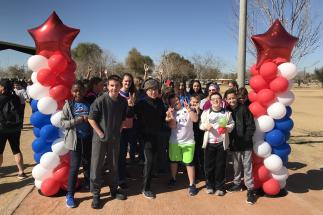 Kick-off Disabilities Awareness Month with us at the 13th Annual Chandler Fun Run , March 4 at Tumbleweed Park. The one-mile walk/run boasts a fun, carnival-like atmosphere complete with live music, face painters, balloon artists, photo booth and lunch. The free event is open to individuals ages 5 to 21 years. Pre-registration required.
Camp Challenge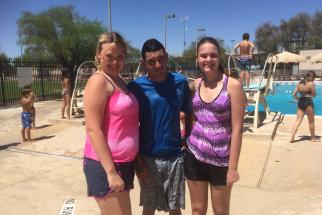 Turn lazy summer days into stimulating adventures filled with learning and leisure at Camp Challenge. From indoor and outdoor activities, to special field trips and epic explorations there is fun for youth and young adults, ages 5-21. Try something new while championing friendships that will last a lifetime. Reserve your spot now at one of our upcoming Registration Nights at the Chandler Community Center.
Therapeutic Sports Programs
We've team up with Special Olympics of Arizona to introduce athletes to the world of sports and fitness. Each season sports enthusiasts can enjoy a variety of athletic offerings:
All athletes competing in any Special Olympics sport must have a current Special Olympics Arizona Medical Form on file with the City before beginning practice for any sport. It is also important to note that there is a specific form to be filled out by a physician, as well as the family.
Get into the game by volunteering to be a Coach or sideline assistant.
Accessible Places for Play
Children (and adults alike) need to play, learn and grow together, side by side. Chandler has been a leader in creating play opportunities that allow children and their families to play together, regardless of their abilities. Discover our parks, trails, playgrounds and facility amenities that make Chandler Parks & Recreation truly inclusive for all.
Partners in Play
Collaboration is essential to our Therapeutic Recreation Programs success. We're honored to partner with the following organizations to increase access, safety and social participation within our play experiences.